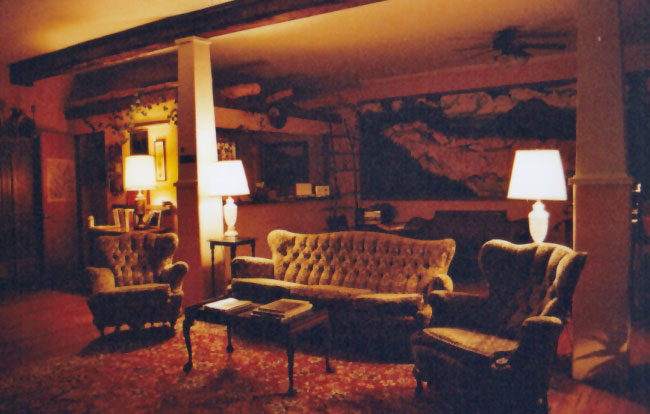 Sadly this building was destroyed by fire in 2012. An update is at the bottom.
Two places that devotees of Dorothy Parker probably won't associate with the writer are Colorado and New Mexico. However, a colorful chapter involving a Model T, gossipmongers, and a midnight drive in 1934 is part of the Parker legend.
Stepping back to 1934, Mrs. Parker was bouncing west from Manhattan in an open 1929 Model "T" Flivver with her new boyfriend, Alan Campbell. The youthful actor had taken a summer stock role in Denver, Colorado. He signed to appear at Elitch Gardens, the oldest summer stock theater in the country. They rented a mid-sized house in Denver for a few months.
The local newspapers probably weren't too busy in the gossip department that summer, because they were all over the couple. Lying through her teeth, Mrs. Parker fibbed that the pair had indeed married, and were not, as the local reporters would have readers believe, was she living in sin in the Rocky Mountains.
Well it wasn't too much longer that she and Alan decided they needed the piece of paper to show they were indeed husband and wife, which is recounted in great detail in the excellent Parker biography What Fresh Hell is This? by Marion Meade.
The thing to do for the couple was head to Raton, New Mexico, which was 218 miles due South. On June 18, 1934, they landed in tiny Raton and made it all legal.
The story is picked up 70 years later by Parker sleuths Jason Stoneking and Leslie McAllister, who journeyed many miles to Raton to check into the hotel where Dottie and Alan spent their honeymoon. Jason spent time with the locals to get the scoop on the tiny town with a quirky chapter in Mrs. Parker's life. In 2007, Jason sent in this report to dorothyparker.com:
Raton in the 1930s was a very popular spot for fast, secret weddings. Being a border town, it was easily accessible to folks from nearby states with stricter laws governing the processing speed for a marriage license. So the El Portal Hotel (which at the time was Seaberg European Hotel) offered among its services a Justice of the Peace.

The man performing the night services was Justice Ray C. Haner, whose home was less than a block away. The Seaberg European Hotel was his business address during this time, as well as being the residential address of two witnesses and one clerk named on the marriage certificate.

The hotel is at 101 N. 3rd Street in Raton. It is still decorated in period décor from various parts of the early 20th Century. The owner, Andy Holman, was very excited to learn of Mrs. Parker's connection to the establishment. And although they didn't know of it until I got there, and explained an old book collection in the lobby contained a Lillian Hellman book and two volumes about The New Yorker.

Parker fans are welcome and encouraged to visit. The local museum has lots of images of Raton from the 1930s and there is no charge to look. Mr. Holman was kind enough to put us up for the night in a very nice room, and seemed very interested in helping to further our quest for knowledge about Mrs. Parker. It should also be noted that the county clerk and local librarian were extremely helpful as well.
Photos by Leslie McAllister.
Sadly, the hotel is now gone. There was a fire in 2004 that closed the El Portal. In November 2012 the hotel was destroyed by a second fire.