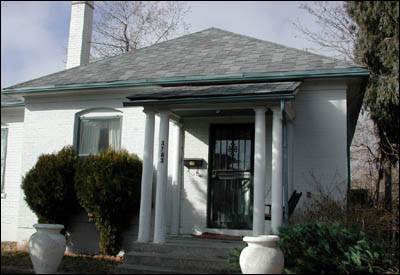 Dorothy Parker, the wit of Manhattan, lived in Denver, Colorado? Yes it's true. In the summer of 1934, Mrs. Parker and her second husband, Alan Campbell, took up residence in a little bungalow in the Rockies. How they ended up there is quite an amusing chapter in Mrs. Parker's life. The house at 3783 Mead Street is where Mrs. Parker lived in 1934 and wrote "Mrs. Hofstadter of Josephine Street." It is still standing.
For about a year she had been living in New York with Alan at The Lowell, on the East Side. Alan was an aspiring actor, who was cast in the chorus and supporting roles. Reports say he was often in "juvenile" roles and not very impressive. But she loved him and left town with the guy.
In early 1934 he was cast in a production in Denver, at Elitch Gardens, the oldest summer stock theater in the country. The couple packed up a junky 1929 Model "T" open touring car—called a "Flivver"—with their Bedlington terriers and headed west. The pair apparently sent telegrams home to their friends every time they crossed another state line.
Arriving in Denver, the story goes that the local press confronted them about their marital situation. The Algonquin Round Table may have broken up five years earlier, but Mrs. Parker remained one of the most famous women in America. With Alan, 11 years her junior, the reporters demanded to know if they were married. They began telling lies right and left that they'd been married, but ended up sneaking over to Raton, New Mexico, to get hitched on June 18, 1934.
While Alan worked at the theatre, Dottie kept to herself at home. They rented a bungalow for $55 a month in the Highlands section of town, not far from the city center, at 3783 Mead Street. She re-named it "Repent-at-Leisure" and set up house.
It was a happy time in Dottie's life. She wrote to her Algonquin pal Aleck Woollcott that she was "in a sort of coma of happiness." She worked in the garden and penned one of her most famous short stories, "Mrs. Hofstadter of Josephine Street." It was partly inspired by a Denver hired man who wouldn't shut up and drove Mrs. Parker crazy, and appeared in the Aug. 4, 1934, issue of The New Yorker.
So how did Mrs. Parker like living in Denver? She cut down on her drinking, maybe due to the mile-high altitude, she told friends, "two cocktails and you spin on your ass." She had low expectations of the city, but admitted, "I love it. I love it. I love being a juvenile's bride and living in a bungalow and pitching dead leaves off the rose bushes. I will be God damned."
The house is a charming little one-story brick building set back 15 feet from the curb, with a postage-stamp size front yard. Today it's white with blue trim. There isn't a garden in the back any more. It's only two houses from the busy West 38th Avenue.
(Special thanks to Joni at the Woodbury Branch of the Denver Public Library for assistance)