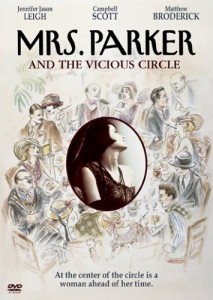 Mrs. Parker and the Vicious Circle
1994, Fineline Films, Run Time: 124 minutes
Director: Alan Rudolph
[Buy from Amazon.com]
Kind of a hoot, and not wholly accurate, but it does have Jennifer Jason Leigh as Dorothy and she gives a fine performance; however, I think her portrayal of Dottie is too brooding. The best parts are Leigh reading Parker's verse. Movie glosses over 30 years of Parker's life. Campbell Scott is OK as Robert Benchley. Loads of star cameos: Matthew Broderick plays jerky boyfriend Charlie MacArthur, Andrew McCarthy is Eddie Parker, Campbell Scott is Robert Benchley and Peter Gallagher is Alan Campbell. Watch for fleeting turns by Gwyneth Paltrow, Heather Graham and Jon Favreau (as Elmer Rice). Roger Ebert said in his 1995 review, "Mrs. Parker and the Vicious Circle is the kind of movie best appreciated, I think, by those who already know the players around the Round Table, and have read some of their work. Others are likely to wonder what the fuss was about."
A Star is Born
1937, United Artists, Run Time: 111 minutes
[Buy or Stream from Amazon.com]
Dorothy Parker was nominated for an Academy Award in 1937 for co-writing the screenplay for the original "A Star is Born." A young woman rises to stardom while her husband sinks into depression in this William Wellman Technicolor classic. It's a Cinderella story of a fresh-faced farm girl, the improbably named Esther Blodgett who transforms into screen icon Vicki Lester when she comes to the attention of matinee idol Norman Maine (Fredric March). But when the deliriously happy couple marries, Vicki's rise to the top is counterbalanced by Norman's fall from grace, a precipitous plummet from stardom to alcoholism and bitterness. This poignant story resulted in three film remakes. Academy Award Nominations: 7, including Best Picture, Best Director, Best Screenplay (by Dorothy Parker and Alan Campbell). Technicolor Remaster Edition, from Original 35mm Nitrate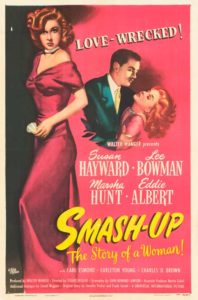 Smash-Up: The Story of a Woman
1947, Universal International Pictures, Run Time: 103 min
[Buy or Stream from Amazon.com]
Dorothy Parker was nominated for an Academy Award in 1948 for co-writing the screenplay for Smash-Up. She didn't win the Oscar that night, but we do have this classic movie starring Susan Hayward. The plot: Angie Evans, fast-rising nightclub singer, interrupts her career to marry struggling songwriter Ken Conway. When Ken lucks into a career as chart-topping radio crooner, Angie is forced into idle luxury which proves her downfall. Her potential alcoholism burgeons and Ken remains clueless concerning his responsibility for her problems. Stars: Susan Hayward, Lee Bowman, Marsha Hunt, Eddie Albert, Carl Esmond. As one reviewer said, "This is probably the most important movie of Susan Hayward's career."
Saboteur
1942, Run Time: 108 min
[Buy or Stream from Amazon.com]
Director Alfred Hitchcock and Dorothy Parker together! Dottie kicked in the dialogue for the circus performers. A forerunner to North by Northwest and The Fugitive, the classic Saboteur is the story of a man falsely accused of espionage who is forced to find the true leader of a spy ring. Well-known for its famous climactic clash on the Statue of Liberty, the film carries themes later explored deeply in other Hitchcock films. The loner hero escapes and races across famous sites searching for proof of his innocence. A classic. Stars: Priscilla Lane, Robert Cummings, Otto Kruger, Alan Baxter, Clem Bevans. DVD: Black & White, Closed-captioned, Full Screen, NTSC, Production notes, Theatrical trailer, Saboteur: A Closer Look, Storyboards, Alfred Hitchcock's Sketches, Production Photographs, Full-screen format.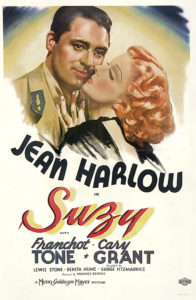 Suzy
1936, MGM, Run Time: 93 min
[Buy from Amazon.com]
This World War I romantic drama was co-written by Dorothy Parker and Alan Campbell, and is one of their first screen credits for MGM. It was directed by George Fitzmaurice and stars Jean Harlow, Franchot Tone and Cary Grant. It concerns American showgirl Suzy in London in 1914. She loves Irish inventor Terry who works for an engineering firm owned by a German woman. After their marriage Terry is murdered and Suzy flees to Paris where she meets flyer Andre as war is breaking out. "Suzy" is unique in being one of Cary Grant's rare forays into working for the legendary studio, and his only teaming with MGM leading lady Jean Harlow. Trivia: The flying scenes for this movie were not shot by MGM. They were outtakes from "Hell's Angels" (1930) filmed by Howard Hughes.
The Cowboy and the Lady
1938, MGM, Run Time: 91 min
[Buy from Amazon.com]
This drama produced by Samuel Goldwyn and starring Gary Cooper and Merle Oberon had an uncredited script by Dorothy Parker and Anita Loos (four others, including Leo McCarey, got credit). The story is a silly one for the Depression: Poor Mary Smith (Oberon) can't go night-clubbing or have any other fun because any hint of scandal could damage her father's political career. She decides to rebel and convinces her two maids to let her go along with them on a blind date with some rodeo performers. She tells her date, 'Stretch' Willoughby (Cooper), that she's a parlor maid and that she left home because her father beat her. The two fall in love and elope. Now Mary has a double dilemma: continuing her charade with Stretch and keeping her marriage a secret from her father.
Hands Across the Table
1935, Paramount, Run Time: 80 min
[Buy from Amazon.com]
A Paramount Pictures comedy-drama co-written by Dorothy Parker and starring Carole Lombard, Fred MacMurray, Ralph Bellamy, Astrid Allwyn and Ruth Donnelly. Hotel manicurist Regi Allen (Lombard) is a cynical gold-digger who meets her match in Theodore 'Ted' Drew III (MacMurray). After a date with Ted, she lets him sleep on her couch when he's too drunk to go further; but what is she to think when he wants to extend the arrangement? Classic depression era comedy/drama where true love wins out over possible higher financial stakes.
Sweethearts
1938, MGM, Run Time: 114 min
[Buy from Amazon.com]
Dorothy Parker and Alan Campbell co-wrote the screenplay for this classic MGM musical comedy starring Jeanette MacDonald, Nelson Eddy, Frank Morgan, Ray Bolger and Florence Rice. A musical comedy duo in their 6th year on Broadway receive an offer to perform in Hollywood making films. The change of lifestyle is inviting to the Sweethearts. Jeanette MacDonald thinks her sweetheart and husband (Nelso Eddy) is engaged in an affair with their personal assistant. The Sweethearts split up and carry on performing with their understudies as their co-stars. This was MGM's first Technicolor film.
The Fan
1949, Run Time: 79 minutes
[Buy from Amazon.com]
Produced and directed by Otto Preminger, this film is an adaptation of Oscar Wilde's 1892 play "Lady Windermere's Fan." Mrs. Erlynne (Madeleine Carroll), an adventuress, arrives in London to see her only daughter Lady Margaret 'Meg' Windermere (Jeanne Crain). The young woman, unaware of Mrs. Erlynne's real identity, thinks that her husband (George Sanders) is cheating on her with this dangerous woman. The best-known line of the play sums up the central theme: "We are all in the gutter, but some of us are looking at the stars." Dorothy Parker wrote the screenplay along with Walter Reisch (Niagara).
Big Blonde
1972, Broadway Theatre Archive, Run Time: 90 minutes
Director: Kirk Browning
[Buy from Amazon.com]
First broadcast on PBS television as part of its "Great Performances" in 1972. Sally Kellerman stars in Dorothy Parker's 1929 O. Henry Prize-winning short story which poignantly chronicles the life of a vivacious showroom model and good-time party girl in the 1920s who gives up her high-life for marriage to a traveling salesman (John Lithgow). When he turns out to be a hard-drinking philanderer, the marriage deteriorates; and the now-blowsy and dissolute aging flapper turns to drinking for solace, moving from man to man as she sinks into an alcoholic haze and a deep funk. "Big Blonde" also stars Anita Morris, Peg Murray, George Coe, and Rosetta Lenoire.
Women & Men: Stories of Seduction
1990, produced by HBO, Run Time: 90 minutes
[Buy from Amazon.com]
A short-film anthology that brings to life three famous short stories:
*Ernest Hemingway's "Hills Like White Elephants"
*Mary McCarthy's "The Man in the Brooks Brothers Suit"
*Dorothy Parker's "Dusk Before Fireworks"
All-star writing, acting and directing! Three classic American short stories come to the small screen, each focused on a man and a woman. The screenwriters (Joan Didion and John Gregory Dunne) marvelously transfer the words of Parker, Hemingway and McCarthy to the screen. In "The Man in a Brooks Brothers Suit" (starring Elizabeth McGovern and Beau Bridges) a businessman plies a young woman with liquor aboard a train. In "Dusk Before Fireworks" (Molly Ringwald and Peter Weller) a youthful flapper arrives at her boyfriend's classy flat intent on an evening of passion. A constantly ringing telephone interrupts each embrace. In "Hills Like White Elephants" (Melanie Griffith and James Woods) a couple traveling in Spain discuss their situation: he wants things to stay as they are, she sees that notion as a fiction. Also look for small supporting parts by Ray Liotta, Andie MacDowell and Kyra Sedgwick. These are three excellent adaptations. "Dusk Before Fireworks" was directed by Ken Russell (Tommy); the other two stories were directed by Tony Richardson (Tom Jones) and Frederic Raphael.
The Paramount Comedy Shorts 1928-1942: Robert Benchley and the Knights of the Algonquin
1928-1942, Kino Video. 136 minutes. Black and White.
[Buy from Amazon.com]
Make it a Round Table Night! This incredible collection captures on film three of the key members of the Algonquin Round Table: Robert Benchley, Alexander Woollcott and Donald Ogden Stewart. This is a compilation of short films, each one under 10 minutes in length. Benchley's famous "The Treasurer's Report" (1928) and Woollcott's "Mr. W's Little Game" (1934) are true comedic gems that haven't lost anything in seven decades. Included are Benchley's Paramount and Fox Movietone shorts. A true fan of the Round Tablers will want to have this one. The Knights of the Algonquin includes:
*The Trouble With Husbands (1940, w/ Robert Benchley)
*Crime Control (1941, w/ Robert Benchley)
*The Witness (1942, w/ Robert Benchley)
*The Man's Angle (1942, w/ Robert Benchley)
*The Treasurer's Report (1928, w/ Robert Benchley – Fox Movietone)
*The Sex Life of a Polyp (1928, w/ Robert Benchley – Fox Movietone)
*Mr. W.'s Little Game (1934, w/ Alexander Woollcott and Leo G. Carroll)
*Humorous Flights (1929, w/ Donald Ogden Stewart)
*Traffic Regulations (1929, w/ Donald Ogden Stewart)
*The Forgotten Man (1941, w/ Robert Benchley)
*How to Take a Vacation (1941, w/ Robert Benchley)
*Nothing But Nerves (1941, w/ Robert Benchley)
*Keeping in Shape (1941 w/ Robert Benchley)
*Waiting For Baby (1941, w/ Robert Benchley)