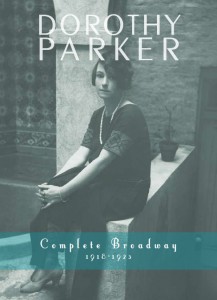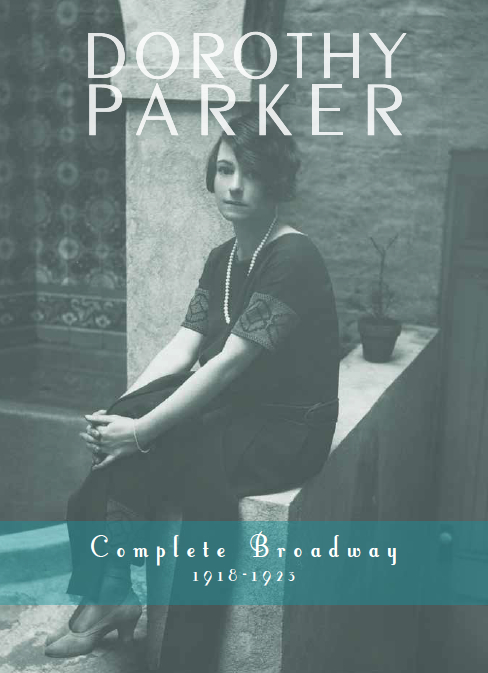 Dorothy Parker Complete Broadway, 1918-1923
By Dorothy Parker.
Introduction and edited by Kevin C. Fitzpatrick
Donald Books/iUniverse (2014)
Hardcover, Softcover, E-Book, 500 pages
[Buy via Amazon]
The groundbreaking Broadway reviews of the inestimable Dorothy Parker are collected in one volume. For the first time in nearly 100 years readers can enjoy Mrs. Parker's sharp wit and biting commentary on the Jazz Age hits and flops. Starting when she was 24 at Vanity Fair as New York's only female theatre critic, Mrs. Parker reviewed some of the biggest names of the era: The Barrymores, George M. Cohan, W.C. Fields, Helen Hayes, Al Jolson, Eugene O'Neill, Will Rogers, and the Ziegfeld Follies. Her words of praise—and contempt—for the dramas, comedies, musicals, and revues are just as fresh and funny today as they were in the age of speakeasies and bathtub gin.
[Read a sample chapter]
[More about the book]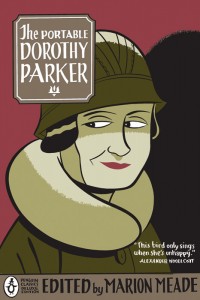 The Portable Dorothy Parker
By Dorothy Parker. Introduction by Marion Meade. Cover by Seth.
Penguin Classics Deluxe Edition
Penguin Books (2006)
Paperback, 628 pages
[Buy via Amazon]
This is the bible for Dorothy Parker lovers. "The Portable" contains Mrs. Parker's short stories, poems, book reviews and Broadway criticism. The book originally came out in 1944 — and has never gone out of print. All of Mrs. Parker's most famous writing is presented here. Her short stories and verse were chosen in 1944 and arranged by Parker herself. This new edition adds her letters, magazine pieces, criticism and book reviews. The book was edited by Marion Meade, author of "Dorothy Parker: What Fresh Hell is This?" For most Parker fans, this is the first collection they buy, and it is a good start. If you are going to own just one Parker book, this is it.
Marion Meade Q&A [Click Here]
Cover artist Seth Q&A [Click Here]
Book Review [Click Here]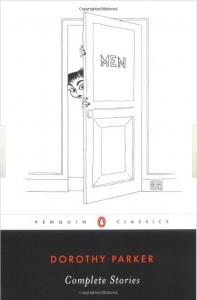 Dorothy Parker, Complete Stories
By Dorothy Parker. Introduction by Regina Barreca
Penguin Books (2002)
Paperback, 480 pages
[Buy via Amazon]
Highest recommendation. There are many stories included here that are not in The Portable Dorothy Parker, so this is a must-buy book. (And it has an Al Hirschfeld cover). Perfect to take on the subway, keep by your bedside, or give as a gift to the new Parker fan. All the greatest hits of classic Parker short stories and sketches. Collects everything from "Such a Pretty Little Picture" (1922) to her final story, "The Bolt Behind the Blue" (1958). It lists the publication date and name of the publication where the stories first appeared. There is also a well-written and concise introduction by Regina Barreca, a University of Connecticut professor. A chronology and bio are included. These short stories are what sets Parker up as one of the best American writers of the 20th Century. Get this book.
More about the book here.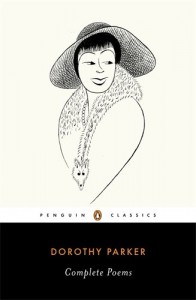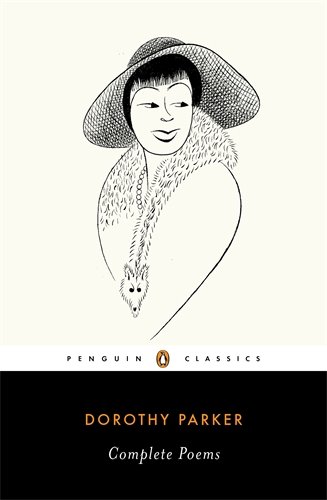 Dorothy Parker, Complete Poems
By Dorothy Parker. Introduction by Marion Meade
Penguin Classics (2010)
Paperback, 432 pages
[Buy via Amazon]
Highest recommendation. Here is a handy book that collects her three volumes of verse in one cover, plus the uncollected verses. If you have The Portable Dorothy Parker you are missing many of the poems that Parker herself left out. This book collects them all. This volume has more than 300 pages of Parker verse, from her early days up to World War II. Add this book to your Parker collection.
Read the review here.
The Poetry & Short Stories of Dorothy Parker
By Dorothy Parker
Random House (1994)
Hardcover, 457 pages
[Buy via Amazon]
This is the Modern Library edition of the classic Dorothy Parker collection of stories and poems. If you want to introduce someone to Mrs. Parker — maybe with a birthday gift book — get this. The first half is divided into verse from the collected editions Enough Rope, Sunset Gun, Death and Taxes; the second half is more than 25 short stories. It's a compact little hardcover book, with an old style typeface, and moderately priced. Even the dust jacket is classy.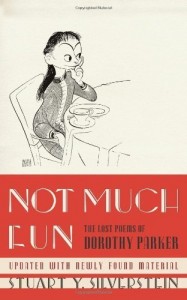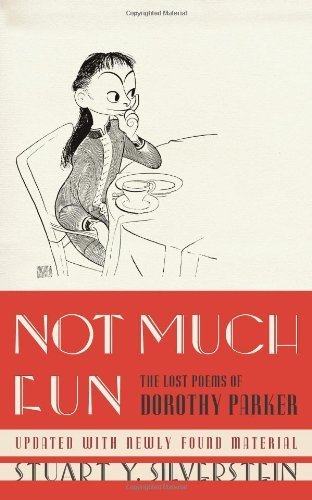 Not Much Fun: The Lost Poems of Dorothy Parker
By Dorothy Parker. Edited by Stuart Y. Silverstein
Scribner (2009)
Paperback, 256 pages
[Buy via Amazon]
Highly recommended. If you have The Portable Dorothy Parker, you also need to own Not Much Fun: The Lost Poems of Dorothy Parker. This comprises all the work Parker left out of her earlier collected editions. Most people have not been exposed to this material for more than 60 years. Most was published from World War I to the 1920s in the old Life humor magazine, The New Yorker, New York Herald Tribune, and The Saturday Evening Post. An excellent and well-written 60-page bio by Silverstein, with lavish footnotes and trivia spread out. There are some real gems in here that bear reading. You need this book in your collection to appreciate some of Parker's early, breezy verse.
Q&A Interview with editor Stuart Silverstein, 1999 [click here]
Q&A Interview with editor Stuart Silverstein, 2010 [click here]