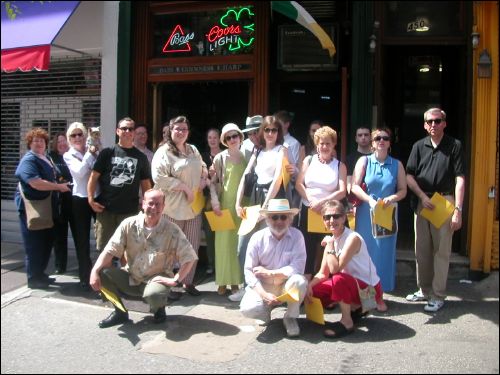 NEW YORK — One of Dorothy Parker's friends, New York World editor Herbert Bayard Swope, once said, "I can't give you a sure-fire formula for success, but I can give you a formula for failure: try to please everybody all the time." Swope knew a thing or two about hosting big parties, and he would have to agree with us that the fifth annual Parkerfest was a smash success.
Attendance was strong: One hundred at the Speakeasy Night birthday party at Flute on Friday; 45 came to the Algonquin Hotel for lunch at the Round Table and our afternoon program; and 22 strolled along Mrs. Parker's haunts for the walking tour. Twenty-three, if we count Eloise, a teacup yorkie hailing from Texas.
It was also a weekend of special guests for all three days' events. The brand-new Robert Benchley Society came out in force and swelled the ranks of the party-goers; some of the weekend's wittiest quips came from them. Saturday, New Yorker artist Natalie Ascencios (ascencios.com) surprised us at the Algonquin and talked about her Round Table painting. We enjoyed Piotr Kajstura's new short film "Unfortunate Coincidence" inspired by the Parker poem of the same name. We were delighted to have singer-songwriter Niki Lee (nikilee.com) come from Baltimore and perform her Parker pieces for us.
The big numbers for Speakeasy Night included a large percentage of attendees wearing vintage clothes. Sparkles, pearls, jewels and evening finery (and even some Victoria's Secret) were evident. The corks popped and glasses clinked at Flute on West 54th Street. Our hostess, Dacotah Rousseau, supplied faux pearls for the ladies and bowler hats for the gents. Specials on Gin Runners and Rheingold beer were snatched up, while the mixed drinks went quickly. Spinning vintage music was our DJ Jonathan Jacobs (vintagedj.com).
The period attire was a big hit: who could forget the sex bomb corner (Sex & the City 1923), or the fashionable Cator Sparks (catorsparks.com) and his posse of hipsters? We were all delighted to meet Cindy Ball, who performs as Helen Kane in "Boop Boop A Doop Girl!" at Don't Tell Mama (343 W. 46th St) on Sept. 25 and Oct. 1. The "original boop girl" indeed, she did elicit a "boop-boop-a-doop" for us.
Saturday dawned a little early for some of us. But more than 40 attended the lunch at the Algonquin Hotel at 1 pm. We took over the entire dining room, gathered below the magnificent Round Table painting. The conversations were as razor sharp and interesting as those from 84 years ago.
Immediately after lunch, dessert arrived when painter Natalie Ascencios appeared with her portfolio. Despite being on a tight deadline, she came over to the hotel to answer a few questions and explain the process that went into her painting of the Round Table, unveiled last December, Natalie brought out her sketches and drawings that showed the genesis of the big painting, six feet wide; photos she passed around tracked the painting's progress on her easel. Natalie explained the importance of perspective and composition – nothing in the painting was an accident. We are grateful that she had time to meet us.
Adjourning to the Oak Room, graciously supplied by the hotel for our use, we had a double treat. Piotr Kajstura told us that being an immigrant in English class, his teacher assigned him Dorothy Parker to read and analyze, which he admits was more for the short length than the subject matter. When it came time for him to make his first student film, he had already studied "Unfortunate Coincidence" so much, it presented itself to him as a perfect subject. Shooting with friends all over the New York subways and city streets, his 8-minute short black & white film got a warm reception and was praised for its inventiveness and style. His director of photography, Ted Ciesielski, was also on hand too.
Parkerfest was made more special with the attendance of almost a dozen Robert Benchley fans. The president of the first chapter of the Robert Benchley Society, David Trumbull, of Boston greeted us. He also was fishing for members, and a few who appreciate Benchley's gifts signed up.
We wrapped up Saturday where we wrapped up Friday: at the bar.
Sunday was the last day of Parkerfest… and it began… back in a bar. We met at The Dead Poet, on Amsterdam Avenue, between 81st and 82nd streets. Among the attendees was Mary Jo Knight, who winged in from Houston with her tiny yorkie. Eloise was someone that Mrs. Parker would have enjoyed meeting (but Matilda, the Algonquin's housecat, certainly did not).
We had a couple rounds of bloody marys at the Poet, then sauntered off towards the 12 locations on the walking tour. We went to 80th Street first, and saw the apartment that Mrs. Parker got her writing career started in. A dozen stops at Mrs. Parker's former homes, her school and her neighborhood was spent admiring the city. And the weather was perfect! We took a trek around the Upper West Side, eventually hopping a M10 bus and deposited near the Cort Theatre. Our day wrapped up at the Algonquin.
We look forward to seeing what 2004 will have in store for us.