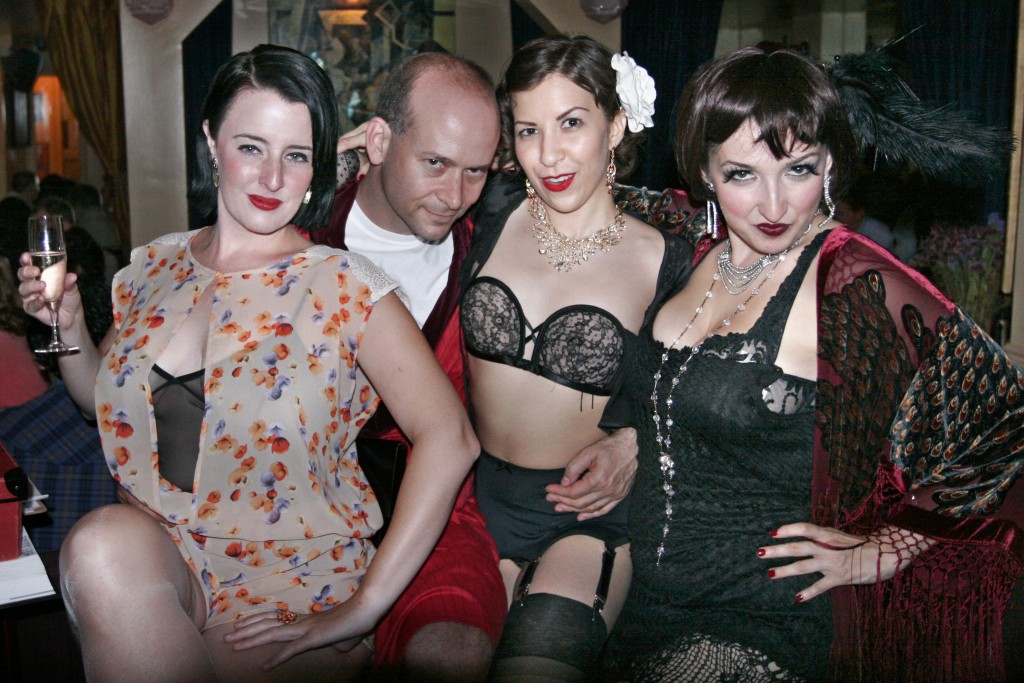 One of the only former speakeasies that is still in operation as a working establishment dispensing alcohol is open for business at 205 West 54th Street. In the 1920s, Dorothy Parker and her chums would frequent Ms. Texas Guinan's speakeasy Club Intime, an underground basement that served cheap bootleg booze. You could only get to the place by going down a steep set of stairs, and admittance past two bouncers, one at the top of the stairs, the other at a peephole.
Texas was the hostess and proprietor and stories say she ran a good place. She was charged with violating the Volstead Act during Prohibition on April 12, 1929. She and 10 others beat the rap.
In 1928, the former Tex Guinan's (also known as Club Intime) was on the circuit of West Side speaks that catered to the theatre set. It is a short walk from the Broadway theaters and only 12 blocks from Times Square. When Dottie was accompanying her male friends to Polly Adler's brothel nearby, they could get liquored up at Guinan's.
Texas Guinan became a Depression-era New York celebrity for owning her speak. In the early 1930s, Texas wrote a newspaper column for the old New York Evening Graphic that ruminated about topics ranging from saloons to self-help. "Texas Guinan Says" was the name of the few paragraphs that ran with her smiling photo. She looks a little like Angelina Jolie (but with smaller lips, of course). In 1931, when Prohibition had been going for 11 years, Texas wrote this column about her situation, and that she was "fated" to own a speak:
We are victims of circumstance. I, for example, am a victim of prohibition. If prohibition hadn't become such a great institution, I could never have been able to promote myself as the guest of the city.

Now I have reached an independent stage. I never need worry about an automobile ride. The city of New York will give me one any time that I want it.

Night clubs are a natural development because the age is one of small apartment houses. People are so "cooped" up in their living rooms that it is impossible to entertain a group of friends. The average apartment party has to retire at midnight. The lease says so. And to find a place where one could make merry without being ejected is the beginning of the reason that gave rise to the cabaret.

Perhaps I became "Queen of the Night Clubs" because of close quarters.

It might have been a tragedy had it not been that I was born on a ranch. There, I learned to ride. And if riding had not been a natural part of my education, I might never accomplished the subtle art of "riding" suckers… especially when it came time to collect the couvert (cover) charge.

Fate and circumstance are the unseen fortunetellers in everyone's life. And so, I conclude that the finger of destiny must be on the hand of fate.
Imagine a modern-day bar owner getting her own column in the New York Post or Daily News. Not very likely. Texas also offered homespun words of wisdom that the common New Yorker could find entertaining, even uplifting. As Mrs. Parker and her friends soldiered on through the 13-year Grand Experiment, Texas offered up these words about the state of affairs in the city:
If you want anything bad enough, go out and fight for it. Work day and night in order to achieve the goal. Sacrifice your time, your peace, your sleep. Sweat for it, fret for it. Plan for it. Lose your terror of God or man for it.
Hold fast to the pillars of faith, hope, confidence, stern pertinacity. Defy cold poverty, pain of body and brain. Besiege and beset for it, and you are bound to win.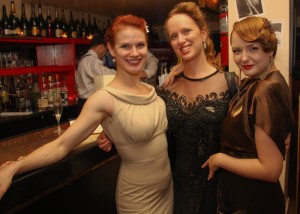 Today, the place is a terrific nightspot and a small, cozy little place called Flute (after the champagne glassware, natch). The Dorothy Parker Society began having speakeasy nights at Flute in 1999, and we have never been disappointed. The décor is tasteful and the music is jazzy.
Flute is an excellent bar and frequent host to "speakeasy parties" and is a nouveu celebrity hangout. Where Dottie and her chums once sipped, now a new generation carry on the tradition.
The staff throw Prohibition Parties, complete with champagne cocktails served in coffee mugs, classic music spun by a DJ, and guests in period attire. Some of Tex Guinan's old newspaper columns are passed around to patrons, 80 years after the writer penned the pieces. Like Flute, the Tex articles are timeless.
Flute is gorgeous inside. Designer Jean Pierre Rousseau has added many touches and gorgeous patterns and colors to the cozy place, which is only suited to about 75 patrons. Visit the Flute web site for great insider photos and details about the place.