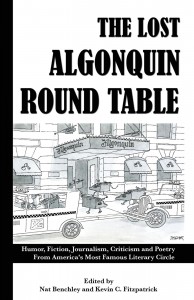 From "It Seems To Me"
By Heywood Broun
On Actors
Nothing in the world dies quite as completely as an actor and the greater the actor the more terrifying becomes the sudden transition from radiance to darkness. One day he is there with all his moods and complexities and curious glints of this and that, and the next day there is nothing left but a few wigs and costumes; perhaps a volume of memoirs, and a scrapbook of clippings in which we learn that the dead player was "majestic in presence" that "the poise of his head was stag-like" that he had "a great voice which boomed like a bell," that he was "regal, subtle, pathetic," and that "every one who was ever associated with him loved and respected him."
Ask some veteran theatergoer "What was Booth like as Hamlet?" and he will say "Oh, he was wonderful." Perhaps the face of the old theatergoer will grow animated and Booth may live again for a moment in his mind, but we who have never seen Booth will never know anything about him. Nobody can recreate and explain the art of a dead actor to the next generation. Even men who do tricks and true magic with words are not adept enough to set down any lasting portrait of an actor on the wing.
From "It Seems To Me"
By Heywood Broun
Polo Grounds Press Box, 1921
One of the most pathetic experiences in the world is to sit in the press box at the Polo Grounds and watch the baseball writers repress their emotions when Babe Ruth knocks a home run. They are denied the privilege of throwing their straw hats into the middle of the diamond or even of slapping anybody on the back.
Good form dictates that "the longest hit ever seen on the grounds" shall be received in stony silence by the working press. Of course, this unnatural repression leads to outbursts in other directions. If you happen to hear "It's Always Lilac Time in Lisbon" recalled for the fifteenth time some evening in the theatre, you may know that a couple of baseball writers are having a night off.
Franklin P. Adams
Mr. Irving Berlin Rewrites "Paradise Lost"
With thee conversing I forget all time,
All seasons, and their change,—all please alike.
—Milton.
Honey, when I talk to you, O gee whiz!
I don't ever know what time it is;
I don't know if it's night or day;
I don't know if it's March or May;
I can't remember
If it's December;
I don't know if it's twelve or nine;
I don't care if it's rain or shine.
But when you go away from me,
I'm just as low as I can be.
And I weep because my sweetie I did lose
'Cause I got those Paradise Blues.
CHORUS
The stars would glisten to me
When you would listen to me,
Dear.
The sky was bluer
The when you were
Here.
And every minute
That had you in it
Was gay.
Now I'm magenta
Because you went a-
Way.
(Sweet mamma!)
I never married;
Life is dry and arid.
For I got the Paradise Blues!
Robert E. Sherwood
The Cinema Primer
The Fans
You ask me why the Films are cheap,
And why they make an Ar-tist weep,
And why they're all so Far from Pure,
And why they Man-gle Lit-'ra-ture,
And why they stress, in ev-'ry Reel,
The el-e-ment of Sex ap-peal,
And why they o-ver-flow with Bunk,
And why they're—in a Word—so Punk,
And why they run in such a Rut….
I'd solve your griev-ous Rid-dles, but
A-las—I am no Nec-ro-man-cer—
Go ask the Fans, for they're the An-swer.