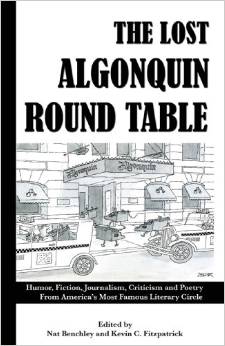 Editors: Nat Benchley and Kevin C. Fitzpatrick
Cover: Jack Ziegler
Publisher: Donald Books | iUniverse
Year: 2009
Format: Hardcover, Trade Paperback, and E-Book
Pages: 287
ISBN (hardcover): 9781440151521
ISBN (paperback): 97181440151514
Order: Publisher | Amazon | Barnes & Noble | Indiebound
The Lost Algonquin Round Table: Humor, Fiction, Journalism, Criticism and Poetry From America's Most Famous Literary Circle contains 50 pieces written by the legendary group of writers and critics that met at New York City's Algonquin Hotel in the 1920s. This new collection presents, for the first time, many pieces from family collections and long-lost periodicals. Unearthed from dusty bookcases, public troves and dark recesses is a rich compendium of the writings that made the group famous.
Nat Benchley, grandson of Robert Benchley, and Kevin C. Fitzpatrick, author of A Journey into Dorothy Parker's New York and The Algonquin Round Table New York: A Historical Guide, co-edited the book. It contains:
* Humor pieces by Robert Benchley, Franklin P. Adams, Heywood Broun, Frank Sullivan, and Donald Ogden Stewart.
* Criticism from Dorothy Parker, George S. Kaufman, and Robert E. Sherwood.
* Short fiction by Laurence Stallings and Pulitzer Prize-winners Edna Ferber and Margaret Leech.
* Journalism from Alexander Woollcott, Ruth Hale, and Deems Taylor.
* Poetry by Adams, Marc Connelly, Dorothy Parker, and John V. A. Weaver.
The Lost Algonquin Round Table is a rich compendium of the writings that made the group famous, before their japes and bon mots were collected and anthologized. Here, under one cover, are many of the pieces that brought the members of the famous salon to the publics attention. The collection offers ample evidence of why the group was so revered.