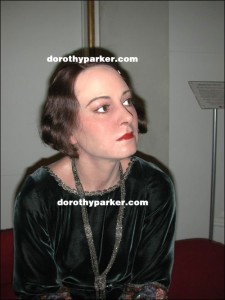 Tourist alert — Dorothy Parker and F. Scott Fitzgerald are lounging around Times Square!
OK, shuffle over to Madame Tussauds, and plunk down $45.00 for a ticket to see the waxen likenesses of Dottie and Scott. They are in the company of other 20th Century figures, such as Einstein, Gandhi, and Bill & Hillary Clinton. There are new additions for Sofia Vergara, Hugh Jackman, and Whitney Houston.
It must have been a dull day (or boredom) that saw the president AND the vice president of the Dorothy Parker Society go for the specific mission of examining the Mrs. Parker statue. (This was several months before the Jennifer Lopez statue was unveiled to great fanfare).
The results of the mission:
Melissa: "Kinda looks like her."
Kevin: "It creeps me out. Let's go see George Steinbrenner and Lou Reed again."
If you're in New York, it is worth it to see Mrs. Parker up close.