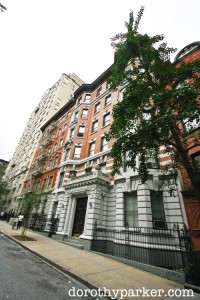 This house at 310 West 80th Street is where a young Dorothy Rothschild penned her very first pieces of light verse as a teen-ager living alone with her widowed father. It is a beautiful six-story limestone row house situated between West End Avenue and Riverside Drive. It was built around 1900 and the architects were Ware, James Edward & Son, who also built apartments on West Seventy-third and West Sixty-ninth streets.
When Dorothy Rothschild's family moved from West 68th Street to a new apartment house 12 blocks uptown, it was a time of great change in the young girl's life. After the turn of the century, young Dottie was a student at Blessed Sacrament Academy on nearby 79th Street. Years later, she joked that she attended it because she wouldn't have to cross any major avenues. Indeed, a maid could walk Dottie to school and the busiest streets to cross would have been Broadway and West End Avenue.
In April 1903, when Dottie was ten, her stepmother, Eleanor, died of a cerebral hemorrhage. Dottie was either enrolled or about to be enrolled at Miss Dana's Academy in Morristown, N.J. Her father, Henry, a clothier, would continue to live here with Dottie's older siblings.
Dottie left Miss Dana's in 1908 and moved back to this house with her father and beloved dogs. She took part-time jobs as a teen-ager, even teaching dance. She also tried writing. On Dec. 28, 1913, her father died and Dottie would tell people she was now "an orphan" (despite being 20 years old).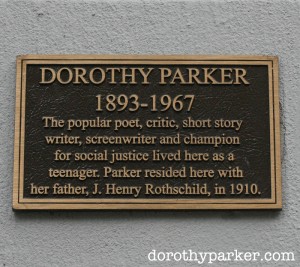 A year later, in September 1914, Vanity Fair bought her first poem for $12 — "Any Porch" — which Dottie could have written in this house. A breezy light verse, Dottie wasn't happy with it in later years and wasn't collected by her while she was still alive. (Today it is in Complete Poems and Not Much Fun: The Lost Poems of Dorothy Parker).
While living here she also wrote more light verse that Franklin P. Adams would publish. Dottie moved out of this house after getting her job at Vogue in 1915, to a boarding house on West One Hundred-third Street.
Today, the house is among million-dollar private residences and posh apartments not far from Riverside Park. It's a short walk from Central Park and the Museum of Natural History.