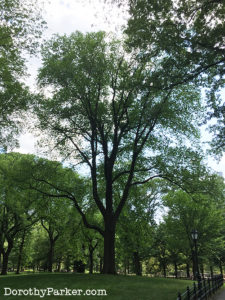 Except for the years she spent in California and Pennsylvania, Dorothy Parker lived within a short walk of Central Park her whole life. She wasn't the type to skip rope as a kid, however, and had few friends.
As the owner of so many dogs, Central Park is a destination. If you reside in Manhattan, your distance from your apartment to "The Park" is vital, and Dorothy lived in at least two residences within a block of the Park at the beginning and the end of her life.
At the turn of the century, the Rothschild family lived on West 68th Street, a half block from the Park. For the last 15 years of her life, Dottie lived in The Volney on the Upper East Side, a furnished apartment on East 74th Street, where she died in 1967.