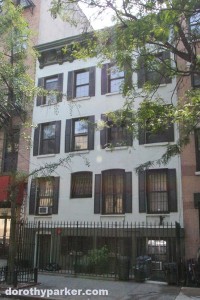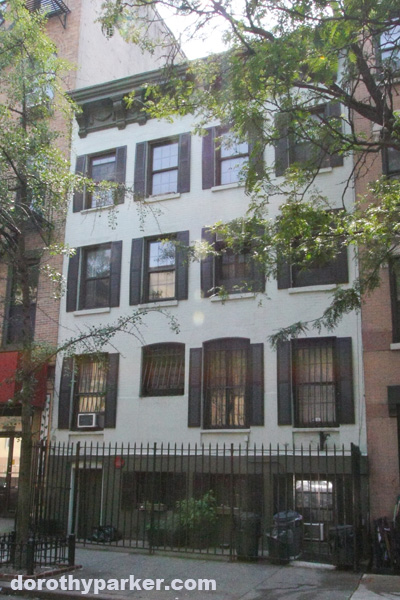 One of the most influential magazines in American literature and pop culture started in 1925 in this non-descript address, 412 West 47th Street in Hell's Kitchen. Dorothy Parker was among the close group of friends from the Algonquin Round Table who aided the founder of The New Yorker, Harold Ross, when he launched the magazine from this house.
Ross and his wife, Jane Grant, bought this house in September 1923. Among the communal residents living in the house was the iconoclastic drama critic, Aleck Woollcott. The pair had been in World War I together and worked on an Army newspaper. When he was 30, Ross founded the magazine and would continue as its editor until his death in 1951.
When Parker was onboard The New Yorker, it was a gathering of the best writers in the country. She was in the company of Ogden Nash, A.J. Liebling, John O'Hara ,and Ring Lardner. And although the magazine offices were elsewhere, it was in this house that many hours were spent editing and working on the magazine.
When Ross moved into the house with his new wife, Parker and her boyfriend, Charlie MacArthur (who would go on to write The Front Page) and Harpo Marx hired a street carousel for neighborhood kids. Charlie handed out handbills inviting passerby inside for a party.
The house on West 47th Street (close to Ninth Ave.) is just a short walk from the Theater District. The first New Yorker office space was not far away, on West 45th. Then it moved here.
The Ross-Grant house was the scene of many parties and gatherings after theater evenings. Parker was a frequent visitor, and the magazine helped cement her place as a writer and poet.
Today, the Hell's Kitchen neighborhood likes to go by the name Clinton, although it hasn't really stuck. It is not a long walk from the theaters and Restaurant Row. The City of New York affixed a small red plaque on the wall as a historical spot, and it mentions Parker. The house is now an apartment building, and as one tenant walked out of the red door, one wonders if he is aware of the ghosts around him.