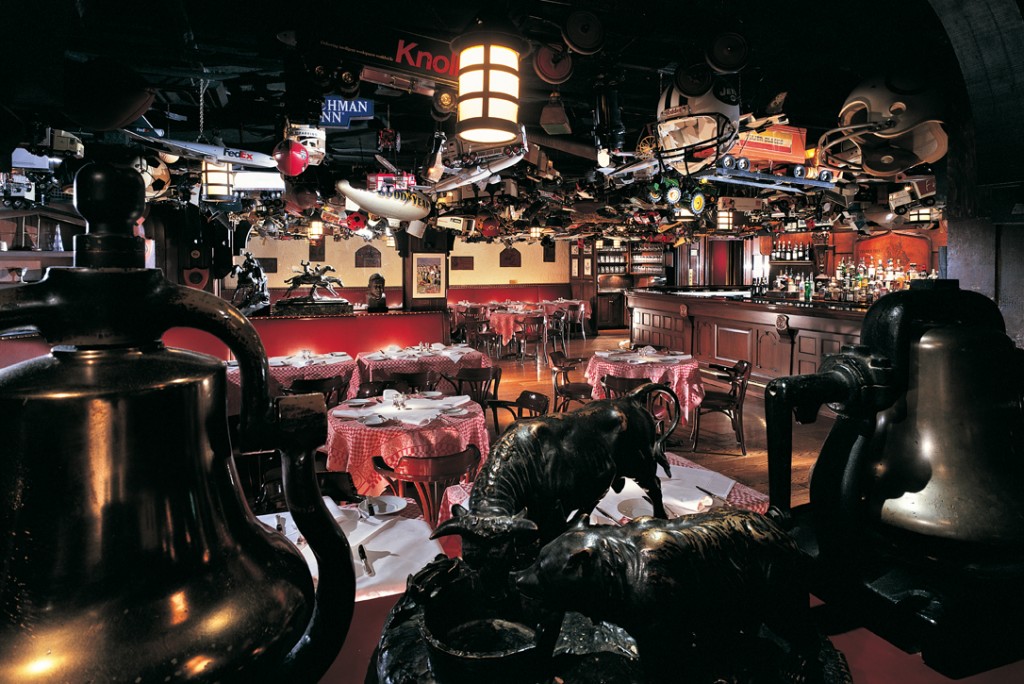 One of the most famous restaurants in the United States was also one of the most popular watering holes for Dorothy Parker and her crowd. It has roots as a speakeasy called Jack and Charlie's Puncheon Club, and "21" is where celebrities and powerbrokers alike have dined on expense account lunches and bottomless glasses of booze for more than 80 years at 21 W. 52nd Street.
When Mrs. Parker and her pals started frequenting the place it was not quite an institution but it was making the gossip pages. The "21" owners and regulars would like you to think that is has always been some kind of mythical New York landmark to celebrity culture.
The place was originally a speakeasy called the Red Head on East Fourth Street in the Village, opened by Jack Kriendler and Charlie Berns. It opened its doors in 1922, when the Algonquin Round Table was three years old. The Volstead Act had gone into effect in January 1920, so the illegal club in a tea room was an immediate hit. The pair moved their speakeasy to a basement at 88 Washington Place in 1925, at the height of the bootlegging, Jazz Age New York. Called the Fronton, it was now a real speakeasy, complete with live music and huge tables. One of the neighborhood patrons was Edna St. Vincent Millay, whom Dottie greatly admired.
In 1926 the Algonquin crowd started frequenting Jack and Charlie's when the business moved uptown. The men moved their business to Midtown Manhattan, to the row of brownstones at 42 West 49th Street, and renamed it the Puncheon Club. It had a big iron gate, a peephole, and the best booze available on the black market.
It became one of the most popular speaks in town, and among the regulars were Dottie, Robert Benchley, Alexander Woollcott, Heywood Broun, Franklin P. Adams and Edna Ferber. They would bump into John O'Hara, Ernest Hemingway, actors, ballplayers and politicos. Nobody was allowed in the Puncheon unless they were known to the house, personally introduced by a regular, or looked like the type that Jack and Charlie wanted to attract. There was a strong Yale crowd keeping it going.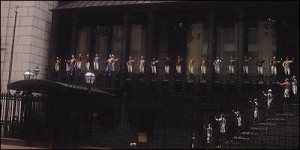 After the stock market crash in October 1929, the club was hardly affected even though patrons lost millions. The Parker biography You Might As Well Live purports that Dottie and her pals were partying in "21" the night of the big crash. The end of the club in that location came on Dec. 31, 1929, when it was demolished and Rockefeller Center was built in its place. This also was the end of Tony Soma's nearby. The partners reopened as "21" on 21 W. 52nd Street.
In the 1930s, when the Round Table was disbanded and Dottie was married to Alan Campbell, she and Benchley found themselves at "21" and discussing their own relationship. According to You Might As Well Live, she had asked her best friend, "Why don't we get married right now?"
"What would we do with Alan?" Benchley asked.
"Send him to military school," she replied.
In November 1945 when Benchley died at age 56 from a cerebral hemorrhage, the club was where the memorial service was held. As the book "21" by Marilyn Kaytor, recounts, Marc Connelly and friends gathered at "21" and fortified themselves with Scotch in a private room upstairs. At 6 p.m., Connelly put in a call to Dottie, who was living in Los Angeles, because she was to organize the simultaneous West Coast tribute.
"We're here," Connelly told Dottie. "Now, Dottie, if you all will raise your glasses…" Dottie cut him off. "Raise our glasses?" she said. "Why, Marc, you stupid bastard, it's only Three O'clock here, and we're all at work. I meant West Coast time, you silly son of a bitch."
A plaque to Benchley's memory in the bar simply says, "Robert Benchley — His Corner."