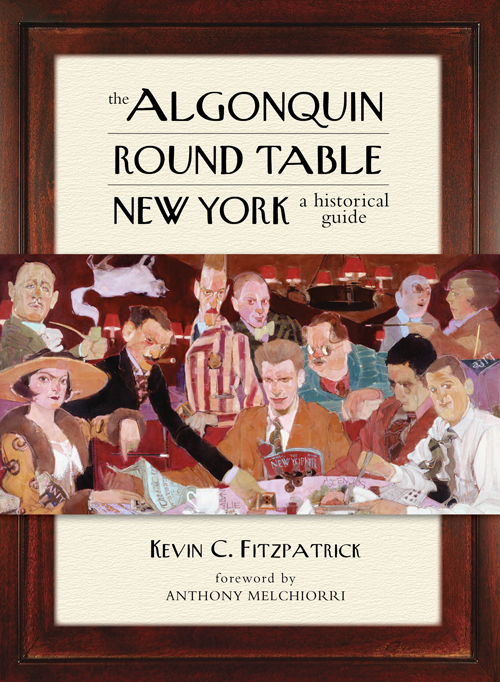 The Algonquin Round Table New York: A Historical Guide
By Kevin C. Fitzpatrick, Foreword by Anthony Melchiorri
Lyons Press (2015)
Illustrated with photos and maps
Paperback, 288 pages
[Buy Via Amazon]
Explore the Algonquin Round Table's favorite salons and saloons, their homes and offices (most still standing), while learning about their colorful careers and private lives. Packed with archival photos, drawings, and maps, including never-before-published material, this illustrated historical guide shows readers New York of yesterday and today. Use it to retrace the footsteps of the Algonquin Round Table, and you'll discover that the golden age of Gotham still surrounds us. The foreword is by Anthony Melchiorri, creator and host of "Hotel Impossible" on the Travel Channel, and former general manager of the Algonquin Hotel.
[More about the book here]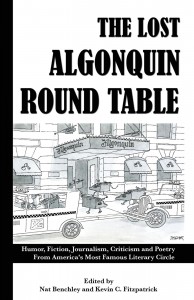 The Lost Algonquin Round Table: Humor, Fiction, Journalism, Criticism and Poetry From America's Most Famous Literary Circle
Donald Books/iUniverse (2009)
Edited by Nat Benchley and Kevin C. Fitzpatrick
Hardcover, Softcover, E-book, 300 pages
[Buy Via Amazon]
The Lost Algonquin Round Table contains 50 pieces written by the legendary group of writers and critics that met at New York City's Algonquin Hotel in the 1920s. This new collection presents, for the first time, many pieces from family collections and long-lost periodicals. Nat Benchley, grandson of Robert Benchley, and Kevin C. Fitzpatrick, author of A Journey into Dorothy Parker's New York, edited the book. Unearthed from dusty bookcases, public troves and dark recesses:
*Humor pieces by Robert Benchley, Franklin P. Adams, Heywood Broun, Frank Sullivan, and Donald Ogden Stewart.
*Criticism from Dorothy Parker, George S. Kaufman, and Robert E. Sherwood.
*Short fiction by Laurence Stallings and Pulitzer Prize-winners Edna Ferber and Margaret Leech.
*Journalism from Alexander Woollcott, Ruth Hale, and Deems Taylor.
*Poetry by Adams, Marc Connelly, Dorothy Parker, and John V. A. Weaver.
The Lost Algonquin Round Table is a rich compendium of the writings that made the group famous, before their japes and bon mots were collected and anthologized. Here, under one cover, are many of the pieces that brought the members of the famous salon to the public's attention. The collection offers ample evidence of why the group was so revered.
[More about the book here]
[Read a sample chapter]
Wit's End: Days and Nights of the Algonquin Round Table
by James R. Gaines
Harcourt (1977)
Hardcover, Paperback, 251 pages
[Buy Via Amazon]
This is the best book out there about the roots, growth and history of the Round Table. Jim Gaines has done a remarkable job of presenting the colorful group. Packed with photos and illustrations, a must-have book for devotees of the Vicious Circle.
Ross, The New Yorker and Me
by Jane Grant, Introduction by Janet Flanner
Reynal (1968)
Illustrated with archival photos
Hardcover, 272 pages
[Buy Via Amazon]
Jane Grant is the un-sung hero of The New Yorker. It was Grant — first wife of editor Harold W. Ross — who pushed him to get the magazine off the ground. In this amazing book, it tells how she met and married the man, but this is just the beginning of the partnership. It tells of the roots of the Round Table — which were in Paris, where Grant was stationed with the Americans (as a singer). Grant is a wonderful writer with an eye for detail. It has first-hand stories about life with Ross, Alexander Woollcott, Dorothy Parker and the others. The introduction is by her clsoe friend, Janet Flanner. It was Flanner in her "Letter From Paris" that helped usher in a new kind of journalism. It was Grant who brought Flanner to Ross' attention. The rest, as they say, is history. If you love The New Yorker, you'll treasure this book. Many archival photos too.
The Years with Ross
by James Thurber
Harper Perennial (re-issued 2020)
Paperback, 336 pages
[Buy Via Amazon]
At the helm of America's most influential literary magazine for more than half a century, Harold Ross introduced readers to a host of exciting talent, including Robert Benchley, Alexander Woollcott, Ogden Nash, Peter Arno, Charles Addams, and Dorothy Parker. James Thurber captures not only a complex literary giant, but a historic friendship and a glorious era as well.
Bon Mots, Wisecracks, and Gags: The Wit of Robert Benchley, Dorothy Parker, and the Algonquin Round Table
by Robert E. Drennan (Editor), Heywood Hale Broun (Introduction)
Skyhorse Publishing (2012)
Paperback, 176 pages
[Buy Via Amazon]
Highly Recommended. This is a great book for any fan of the Round Table. It first came out in 1968 and was reprinted in three times. It has a nice introduction by Heywood Hale Broun (son of Heywood Broun and Ruth Hale). It collects dozens and dozens of the famous quips and quotes. Besides Mrs. Parker, it includes Franklin Pierce Adams, Robert Benchley, Heywood Broun, Edna Ferber, Ring Lardner, George S. Kaufman, Harpo Marx, Harold Ross, Robert Sherwood, Alexander Woollcott and others "completing the circle." There are so many gems here. One of them: Mrs. Parker gave the following advice to a friend who's ailing cat had to be put away; "try curiosity."
Genius in Disguise: Harold Ross of The New Yorker
by Thomas Kunkel
Carroll & Graf (1996)
Paperback, 512 pages
[Buy Via Amazon]
Genius in Disguise is more than a portrait of Harold Ross. Ross is one of those precious few magazine editors whose essence so richly permeates their publication that to speak of the early years of The New Yorker without speaking of Ross is as unthinkable as Playboy without Hefner or Ms. without Steinem. Everything we associate with the sophisticated, urban magazine that refused to address itself to the "little old lady in Dubuque"–the eclectic (and sometimes obscure) subject matter, the obsessive attention to factual and grammatical perfection, even the visual style of the cartoons–was shaped by Ross. But an editor is nothing without writers and artists, and so Kunkel presents Ross as a team captain of sorts, seamlessly weaving anecdotes about the players into his rich portrait of Ross's life.
Ferber: Edna Ferber and Her Circle
by Julie Gilbert
Applause Theatre Books (2000)
Paperback, 445 pages
[Buy Via Amazon]
This enduring biography of the popular writer begins with Ferber's last years in New York City, exploring the setting in which she did all of her great writing. Diaries, copious correspondence, and the cooperation of distinguished living friends have resulted in a rich portrait of a period and a literary circle not yet fully documented, and an insightful engaging analysis of a writer highly influential in the shaping of twentieth century America.
F.P.A.: The Life and Times of Franklin Pierce Adams
by Sally Ashley
Olympic Marketing Corporation (1986)
Hardcover, 266 pages
[Buy Via Amazon]
This is an extremely well-written book on a sadly neglected figure in American culture. The most popular newspaper columnist of his time, Adams made "Tinker to Evers to Chance" a national catchphrase and was mentor to George S. Kaufman, James Thurber and Dorothy Parker.
Deems Taylor: A Biography
by James A. Pegolotti and Gerard Schwarz
Northeastern University Press (2003)
Hardcover, 410 pages
[Buy Via Amazon]
In this first biography of Taylor, James A. Pegolotti brings to life the remarkably multi-talented man within the context of his times. The captivating portrait recounts his formative years in the Bronx, his college years at New York University, where he composed four successive varsity musicals, his journalistic career first as a writer for the New York Tribune Sunday Magazine and then as the powerful music critic for the New York World, and his musical triumphs. Pegolotti also details Taylor's stints as editor of Musical America, president of the American Society of Composers, Authors and Publishers (ASCAP), best-selling author of Of Men and Music and other books, collaborator with Disney and Leopold Stokowski on Fantasia, and even judge for the Miss America pageant. He describes how Taylor used his critic's pulpit to champion American music, opera, and musicians, and also chronicles his colorful personal life, including his third marriage at age sixty to a twenty-year-old costume designer.
Laughter's Gentle Soul: The Life of Robert Benchley
by Billy Altman
W. W. Norton & Co (1997)
Hardcover, 382 pages
[Buy Via Amazon]
Billy Altman's biography chronicles Robert Benchley's life from his birth in Worcester, Massachusetts, his schooling at Harvard, and early writing career in New York through the heady days of Hollywood and the Algonquin Hotel to his untimely death from cirrhosis in 1945. The stories are all here: Benchley's practical jokes, his legendary drinking, his strict separation of suburban family life and urban adultery. What is not in Laughter's Gentle Soul is any critical analysis of the stories, the writing, or the reasons for Benchley's self-destruction. Why, for example, was Benchley so admired by fellow humorists? Why did he not drink until the age of 31 and then apparently fall immediately into incurable alcoholism? Fans of Robert Benchley won't find anything in Laughter's Gentle Soul that they haven't read before; for those who are unfamiliar with the man, however, Altman's book provides a good first introduction.
Robert Benchley: An Annotated Bibliography
Bibliographies and Indexes in Popular Culture
by Gordon E. Ernst
Greenwood Press (1995)
Hardcover, 312 pages
[Buy Via Amazon]
The ultimate guide to the works of Robert Benchley. This volume draws together bibliographic information on books, essays, newspaper columns, and dramatic criticism. Appropriate for research collections on 20th-century humor or popular culture. This bibliography does a great service for those researching Benchley and his contemporaries by providing access to little known items written by this twentieth-century humorist, as well as providing information on the films he appeared in and the content of his recordings.
Voices Offstage: A Book of Memoirs
by Marc Connelly
Holt, Rinehart & Winston (1968)
Illustrated with photos
Hardcover, 258 pages
[Buy Via Amazon]
Broadway fans may recall Marc Connelly as a long-time member of the playwright community. He won a Pulitzer Prize for The Green Pastures in 1930. Connelly will always be remembered for his collaborations with George S. Kaufman. In his book, Connelly details how he went from McKeesport, Pennsylvania, to Broadway. It was a bumpy ride, but he makes a good storyteller. Connelly was an original member of the Vicious Circle and was very close to Dorothy Parker and Robert Benchley. The book is one yarn after another. But one thing missing is how his wife divorced him and married Robert E. Sherwood, his friend from the Round Table. A good book about old Broadway.