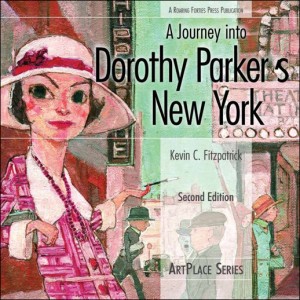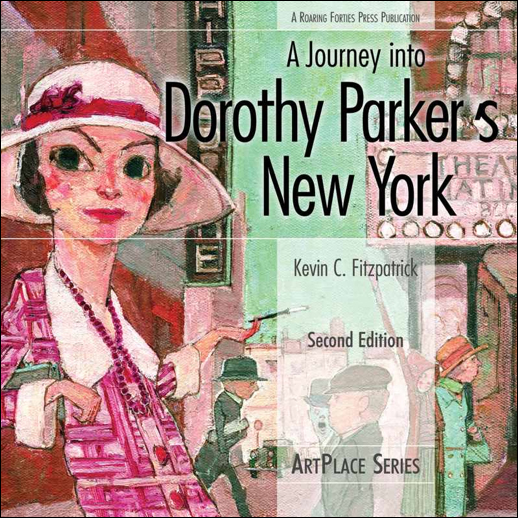 A Journey into Dorothy Parker's New York
By Kevin C. Fitzpatrick, Foreword by Marion Meade
Roaring Forties Press (2013)
Illustrated with maps & photos
Softcover, E-Book, 150 pages
[Buy via Amazon]
Take a journey into the city of theaters, bars, and hotel rooms where Dorothy Parker sharpened her wit, polished her writing, and captured the edgy mood of her times. This eye-opening volume explores Mrs. Parker's favorite salons and saloons as well as her homes and offices (most of them still intact); charts her colorful career and intense private life; and recounts her political activism, theatrical exploits, and final years. The new edition of A Journey into Dorothy Parker's New York is packed with more than 150 illustrations, many rare and never published before, and updated information on all the sites. Readers can use the maps to trace the footsteps of the most celebrated member of the Algonquin Round Table across Manhattan. This book will appeal to both longtime Parker devotees and those just discovering her charms, as well as to fans of New York City. "I supposed that is the thing about New York," Mrs. Parker wrote in 1928. "It is always a little more than you had hoped for. Each day, there, is so definitely a new day." With a foreword by Marion Meade, author of Dorothy Parker: What Fresh Hell is This?
[More about the book here]
[Read a sample chapter]
[Reviews]
[Get signed copy]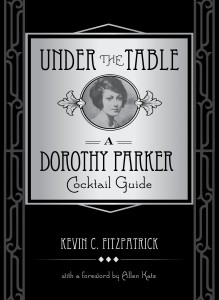 Under the Table: A Dorothy Parker Cocktail Guide
By Kevin C. Fitzpatrick, Foreword by Allen Katz
Lyons Press (2014)
Illustrated with cartoons & photos
Hardcover, E-Book, 140 pages
[Buy via Amazon]
There has never been a book that collected cocktail recipes that tie the 1920s together with the celebrities of the era that made the drinks so famous. This is that guidebook. Under the Table: A Dorothy Parker Cocktail Guide was written by Kevin C. Fitzpatrick, author of A Journey into Dorothy Parker's New York and president of the Dorothy Parker Society. The handsome book has delicious recipes from A-Z: The Aviation to The Ziegfeld. A bar book for Jazz Age enthusiasts and literary tipplers alike, Under the Table offers a unique take on Mrs. Parker, the Algonquin Round Table, and the Jazz Age by profiling and celebrating the drinks that she, her bitter friends, and sweetest enemies enjoyed and discussed. Each entry of this delicious compendium offers a fascinating and lively background of a period cocktail, its ingredients, and the characters associated with it. The book is filled with vintage photos and illustrations, designed like a time capsule from the 1920s.
[More about the book here]
[Read a sample chapter]
Dorothy Parker, What Fresh Hell is This?
By Marion Meade
Penguin Books (2007)
Illustrated with archival photos
Paperback, 460 pages
[Buy via Amazon]
Highest recommendation. The definitive biography of Dorothy Parker is this one by Marion Meade. Dorothy Parker, What Fresh Hell is This? was published in 1987 and was re-issued in 2007 with a new author's afterword that fills in what has happened to Parker's legacy in the last 20 years. Meade is a thorough and detailed biographer who has a writing style that is perfect for a biography. She paints a balanced portrait of the amazing Dorothy Parker, and shows why Parker is an important figure in literature. Lots of documentation and sources cited; anecdotes, yarns, and myths about Mrs. Parker. Big photo section. Meade is the only one to interview Parker's family. Of the three Parker biographies out there, this is the best one. Meade is like a private investigator who turns up new information and new facts about Mrs. Parker. You can't be a Parker fan and not own this book. Read an interview with Marion Meade here.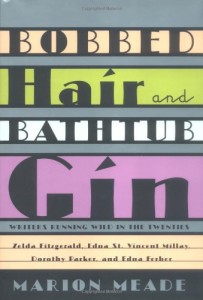 Bobbed Hair and Bathtub Gin: Writers Running Wild in the Twenties
By Marion Meade
Nan A. Talese (2004)
Hardcover, Paperback, E-Book, 368 pages
[Buy via Amazon]
Highly Recommended. Thirty years ago Meade wrote Dorothy Parker: What Fresh Hell is This? It remains the definitive Dorothy Parker biography; now she expands on the 10 most exciting years of Parker's life, along with Edna Ferber, Zelda Fitzgerald and Edna St. Vincent Millay. The subtitle of Bobbed Hair and Bathtub Gin is "Writers Running Wild in the Twenties" and it is an exciting read that zeroes in on one decade in the lives of the four women and those close to them. There are other, longer, and deeper biographies and autobiographies of the quartet, but this book digs beneath the surface about what made them so unique, powerful and passionate about what they did.
[More about the book here]
Dorothy Parker, A Bio-Bibliography
Randall Calhoun, Editor & Compiler
Greenwood Press (1993)
Hardcover, 174 pages
[Buy via Amazon]
I love this book, but only as a hardcore Parker fan. It is about 70 percent bibliography: books, short stories, screenplays, published interviews, miscellaneous work, pieces from magazines and newspapers. But the gem here is Wyatt Cooper's 1968 Esquire article "Whatever You Think Dorothy Parker Was Like, She Wasn't" which provides the only accounting of her later years. There are two other early Parker bios too, which are fascinating to read. Plus an excellent bio sketch by Calhoun. Recommended for only the serious Parker fan or scholar.
The Late Mrs. Dorothy Parker
By Leslie Frewin
MacMillan Publishing Company (1987)
Hardcover, 345 pages
[Buy via Amazon]
This biography came out at almost the same time as Marion Meade's What Fresh Hell Is This? and that is likely what you will say if you read The Late Mrs. Dorothy Parker after you have read Meade's superior book. Frewin doesn't have a soft touch, but he does have several different anecdotes and a different approach to examining Mrs. Parker's life. This is a second-tier book, but a good addition for completists.
Dorothy Parker, Revised
(Twayne's United States Authors Series)
By Arthur F. Kinney
Twayne Publishing (1998)
Hardcover, 201 pages
[Buy via Amazon]
If you are seeking literary criticism of Dorothy Parker, this is the book for you. A volume in the respected "Twayne's U.S. Authors Series", it offers a critical introduction to the life and work of Dorothy Parker. Accompanied by new works and new manuscript evidence, the richly interdependent and often calamitous relationship between Parker's life and art is reviewed in this full, comprehensive study. Each of her major pieces, and many of her better-known minor ones, is placed within the life and times in which she wrote to help the reader understand her numerous references and allusions to contemporary events.
A Gendered Collision: Sentimentalism and Modernism in Dorothy Parker's Poetry and Fiction
By Rhonda S. Pettit
Fairleigh Dickinson University Press (2000)
Hardcover
[Buy via Amazon]
Dorothy Parker was perceived as a marginal modernist at best, and a sentimentalist at worst. In exploring the Parker paradox, this study draws on feminist assessments of 20th Century modernism to recontextualize the scene of Parker's literary production. Parker's poetry has been ignored by historians of modernism because of its content, form, and publishing venue. If we consider, however, that modernism embodies more than just technical experimentation, we can appreciate the collision of values found in Parker's poetry for what they are.
The Rhetoric of Rage: Women in Dorothy Parker
By Sondra Melzer
Peter Lang Publishing (2001)
Paperback, 196 Pages
[Buy via Amazon]
This book explores the treatment of women from a contemporary feminist perspective and reveals the ways in which Parker's brittle humor reflects muted anger toward a patriarchal society. Through close examination of the texts, the work investigates the hidden discontents, the buried conflicts of women's lives and exposes the forces at work both implicitly and explicitly that shape their existence. The book locates links between the author's life and the fiction and elucidates the ways in which Parker lived her life in fiction and her fiction in life.