Reviews (all reviews are for the 1st edition)
The New York Times On 2/26/2006 The Times had a feature on the book as part of its "Reading New York" column. It was the lead item, ahead of two other famous New Yorkers: former mayors Koch and Giuliani.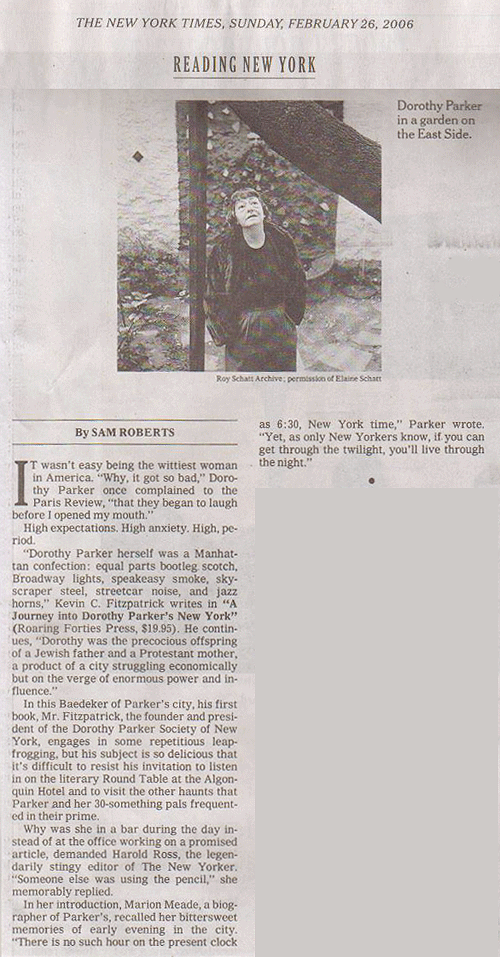 The Library Journal: Kevin Fitzpatrick, founder and president of the Dorothy Parker Society, has put together a stunning and highly entertaining book that combines biography, architecture, literature, and travel. It documents the many sites that Parker — the quintessential New Yorker and celebrated writer who, upon returning from Los Angeles, once quipped, "I get up every morning and want to kiss the pavement" — lived, worked, socialized, and died. In 79 color and 75 black-and-white photographs and five maps, the book moves from Parker's first 24 years on the Upper West Side to her declining years on the Upper East Side, with midtown and the theater district — her hangouts while writing for Vogue, Vanity Fair, and The New Yorker — sandwiched in between. With a detailed time line of Parker's life, a further reading list, informative Internet destinations, and a comprehensive index, this first volume in the publisher's new "ArtPlace" series (upcoming volumes include Georgia O'Keeffe's New Mexico and Goya's Madrid) is highly recommended. — Melinda Stivers Leach, Precision Editorial Svcs., Wondervu, CO.
From Publishers Weekly: Part biography, part walking tour, Fitzpatrick's meticulously researched first book is an eye-opening account of the life and times of Dorothy Parker and a paean to Old Gotham. Parker's finest work, mostly of verse and short stories for The New Yorker and Vanity Fair, as well as her reign as Queen of the Algonquin round table of writers and wits, were integral to literary New York during the Prohibition era when, as writes Fitzpatrick, "the speakeasies are always hopping, the party is just beginning." This segment of Parker's life is well-known, and fans will enjoy using the photos and maps to find Parker's many apartments, the Algonquin Hotel, the first office of The New Yorker and The 21 Club, where connoisseurs of fine cocktails can still get a crisp Tom Collins (with non-bathtub gin, even). Casual Parker fans may not know about Parker's stint as New York's first female drama critic (for Vanity Fair), nor her leftist activism that led to her inclusion on McCarthy's black list. Fitzpatrick does an admirable job of summarizing these time periods in the writer's life, and also of capturing Parker's lonely last days, when Gloria Vanderbilt was one of her few friends. Less a guidebook than a loving testimonial and guide to a pioneering New York writer, this book will win Parker-and Fitzpatrick-new fans.
Offbeat Travel: You are in for a treat, especially if you are a fan of Dorothy Parker. This book takes you back to the New York City of her time and you will never be the same after reading this book. The longing to have lived then overtakes you almost from the first page.
The excitement, the insanity, the brilliance of Dorothy Parker and her cohorts comes alive right before your eyes. The author, Kevin Fitzpatrick, is the founder of the Dorothy Parker Society and he leads walking tours of the Algonquin Round Table homes and haunts in Manhattan. He knows all of the stories good and bad, happy and sad and he tells those stories to you, showing you the places and archival photos from the time and place of each one. The book is creatively illustrated not only with photos but also with pictures of the artwork, posters, and design of the period. And the very best part is that so many of these places actually still exist. The book provides you with street maps and diagrams and makes everything you are dreaming of doing possible. I am a Dorothy Parker fan and I loved this book.
TravelSmart, Reviewed by Tom Gates: After devouring Kevin C. Fitzpatrick's book, you might be tempted to think of it as a Dorothy Parker encyclopedia — since it is filled with just about everything one could hope to discover about the noted writer, critic, defender of human and civil rights and humorist — although she herself preferred the term "satirist."
She is also somewhat fancifully described as being comprised of "equal parts bootleg scotch, Broadway lights, speakeasy smoke, skyscraper steel, streetcar noise, and jazz horns" – since, for much of her extraordinary life, the former Dorothy Rothschild worked and played on the isle of Manhattan.
This is a book so well documented with street maps, footnotes, and photographs that one could easily use it to organize a Dorothy Parker Walking Tour; although that's one of the things that the author, who is also the founder of the Dorothy Parked Society, specializes in.
Both the public and private lives of Ms. Parker are examined; her friends, her enemies, her marriages, her love affairs, her years with Vogue, Vanity Fair and The New Yorker, as well as her work as screenwriter. It turns out that she co-wrote two of Hollywood's finest films, the original version of A Star Is Born and Smash-up; The Story Of A Woman, earning her an Oscar nomination for each.
As for her "defender of human and civil rights" moniker, Fitzpatrick tells us that in her last will and testament, Parker's estate went to Dr. Martin Luther King Jr., a man she greatly admired but had never met. For her epitaph, incidentally, she suggested the phrase "Excuse My Dust."
Not surprisingly, a fair amount of the book is devoted to her years as a member of the fabled "round table" at the Algonquin Hotel which began in 1919 as a welcome-home luncheon roast in honor of New York Times drama critic Alexander Woollcott and continued for the next ten years. Ultimately, the "round table" was home to such glittering literatti as Robert Benchley, Edna Ferber, George S. Kaufman, Tallulah Bankhead, Robert Sherwood, Marc Connelly and Harpo Marx. Fitzpatrick reminds us that Ms. Parker produced much of her finest and most enduring work during this manic decade.
Those who are already familiar with Dorothy Parker's quick wit thanks to such oft repeated lines such as, "I love a martini; two at the very most. Three and I'm under the table; four and I'm under the host", will revel in the wealth of material associated with one of New York's most memorable, talented and colorful citizens.
The Boston Phoenix: (June 21, 2006) In the category of guides written more for the pilgrim than the tourist is A Journey into Dorothy Parker's New York (Roaring Forties Press, 160 pages, $19.95). Author Kevin C. Fitzpatrick provides the basis for a walking — and drinking — tour of Manhattan that follows in the footsteps of the famous Round Table wit. The well-researched book, which began as a Web site, maps out Parker's life from her childhood on the Upper West Side to the New York landmarks where she and her famous friends launched their barbed bon mots, and the hospitals where she dried out and recovered from her excesses.
It also traces New York's 20th-century literary legacy through its architecture. Destinations include the beaux-arts and Art Deco edifices that housed the small presses, magazines, and newspapers founded by Parker and her pals, and the speakeasies where they drank themselves into early graves. These would become institutions, like the New Yorker, Random House, and the 21 Club, or legends, like Smart Set and Tony Somaís Bar.
Fitzpatrick has translated his Web site's many features, liberally illustrating this elegant book with archival prints, current photos, maps, portraits, poems, and, of course, a recipe for the perfect pre-World War II martini. Roaring Forties Press offers a series of literary guidebooks from Steinbeck's California to the Transcendentalists' New England, with more to come.