Dorothy Parker only wrote about fifty short stories, and of this list, her 1929 "Big Blonde" stands out as a favorite of fans, and of hers. It was given to Seward Collins, Parker's paramour of the era, to publish in his magazine, The Smart Set. The tale of Hazel Morse, a dissipated party girl and model, the novella was instantly popular. It earned the O. Henry Award for outstanding short story of the year.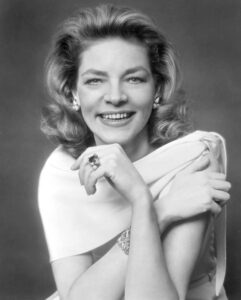 Lauren Bacall (September 16, 1924—August 12, 2014) was a consummate actor. She is perhaps best known for her films To Have and Have Not (1944), The Big Sleep (1946), How to Marry a Millionaire (1953), and Murder on the Orient Express (1974).
She also starred on Broadway, earning Tony Awards for Applause (1970) and Woman of the Year (1981). Bacall was named the 20th-greatest female star of classic Hollywood cinema by the American Film Institute and received an Academy Honorary Award from the Academy of Motion Picture Arts and Sciences in 2009 in recognition of her contribution to the Golden Age of motion pictures.
Bacall recorded this version of "Big Blonde" about 1994 when she was 60 years old. Like Parker, she was a product of New York City, growing up in The Bronx and going to school in Manhattan. Born Betty Perske and renamed by director Howard Hawks, Bacall and Parker both resided on the same block, West Seventy-second Street, on the Upper West Side. Whether the two women ever met is not known.