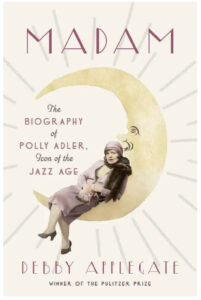 Spend Valentine's Day with Polly Adler and hear about the life story of New York's most notorious brothel-owner from author Debby Applegate. A joint online talk and Q&A will bring together today's leading speakeasy-era associations: the Dorothy Parker Society, the Robert Benchley Society, the Repeal Society, and the Marx Brothers Festival. The Zoom event is hosted by The Lambs, America's oldest professional theatrical association.
The event is free and will be Monday, February 14, 8:00 p.m. ET/5:00 p.m. PT. Register here to attend.
Madam: The Biography of Polly Adler, Icon of the Jazz Age (Doubleday) was published in November and quickly earned scores of glowing reviews. "Excellent…Applegate, a Ph.D. in American studies from Yale, tells this grand story with aplomb, intelligence and a sure feel for historical context…Applegate has produced a biography worthy of its subject. " — Michael Kazin in the New York Times Book Review
Debby Applegate earned a Pulitzer Prize for writing The Most Famous Man in America, the Biography of Henry Ward Beecher, and now she turns her gaze to the Jazz Age and one of the most popular names in Manhattan: brothel owner Polly Adler. Applegate spent more than a decade researching and crafting the book. Get ready for stories tied to Jazz Age names of crime, music, politics, speakeasies, sports, and vice. Take a deep dive into the world of sin and speakeasies with Applegate.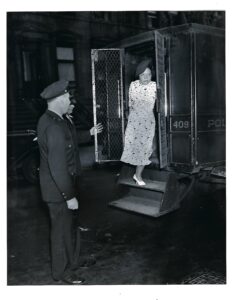 Dorothy Parker, a dear friend of Adler, spent time with her and her friends in the many whorehouses of the 1920s and 1930s. Robert Benchley was also a pal and client of Polly's. The Repeal Society hosts annual Repeal Day parties in New York City; founder Don Spiro will share a vintage cocktail recipe demo. The Marx Brothers Festival keeps the spirit of the brothers alive; the Brothers crossed paths with Polly as well. The Lambs hosted a book talk with Debby in December; many of the club members in the Jazz Age were Polly's customers, from playwright George S. Kaufman to bandleader Paul Whiteman.
For more information follow Debby Applegate www.debby-applegate.com and order the book here.