The final resting place of Dorothy Parker in historic Woodlawn Cemetery was marked with a gravestone in time for the 128th anniversary of her birth. The cremains of the famous critic, poet, and champion for social justice were brought to the cemetery a year ago.
"Our Great Aunt is now in our family plot in this beautiful cemetery and we are very happy that she is back in her beloved New York City," said Susan Cotton, family representative. Parker is buried beside Jacob Henry Rothschild and Eliza Annie Marston Rothschild, her parents, and Thomas and Caroline Marston, her maternal grandparents.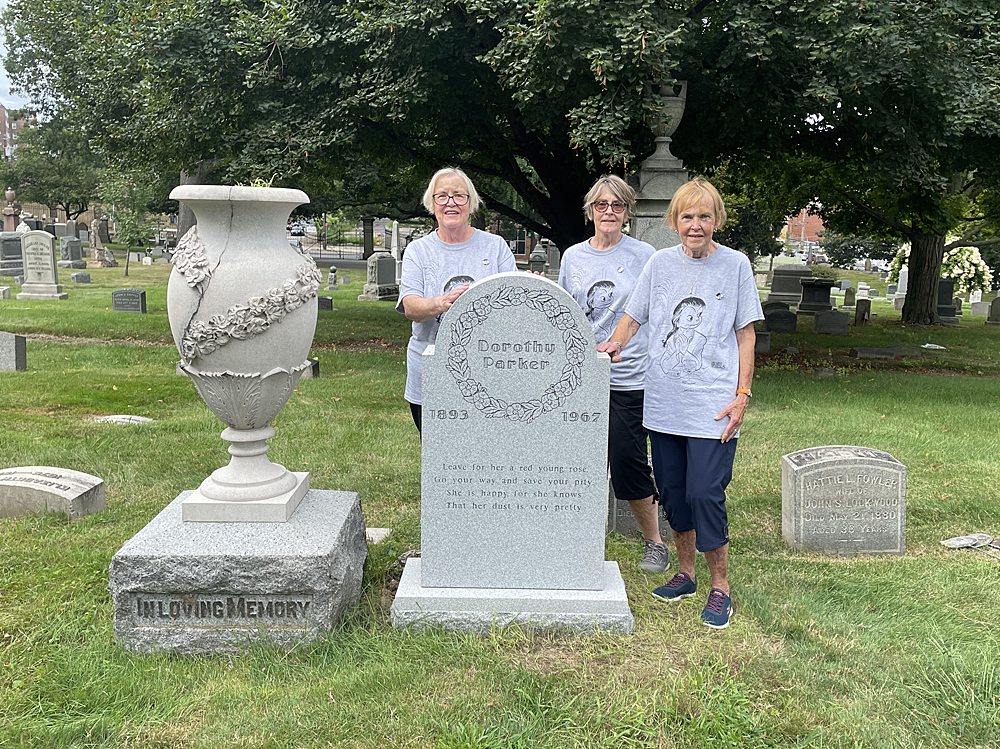 There were two unveilings for Dorothy Parker's gravestone in Woodlawn Cemetery in The Bronx. On Aug. 21, 2021, the grandnieces of Dorothy Parker were able to view and unveil the gravestone. But with Hurricane Henri bearing down on New York City, the planned unveiling on August 22 had to be postponed until Aug. 23, and the family was not able to be present. So the covering was unveiled by Kevin C. Fitzpatrick, president of the Dorothy Parker Society. At the gravesite, Jesse Gelber and the Rounders performed, with Kate Manning on vocals.
Parker died of heart disease at age 73 on June 7, 1967. Following cremation in Westchester County, New York, her cremains were not claimed by her executor. The urn spent many years in the office of a Manhattan attorney. However, Parker had left her estate to the National Association for the Advancement of Colored People. In 1988 the organization claimed her cremains and brought them to their national headquarters in Baltimore, Maryland. The NAACP constructed a memorial garden for Parker. In 2020, following the NAACP office relocation, the family requested the urn be brought back to New York. On August 22, 2020, Parker's ashes were buried in the family plot.
"Having Dorothy Parker return to her hometown during the pandemic is a good story for all New Yorkers, and one that her fans have embraced," said Kevin C. Fitzpatrick, president of the Dorothy Parker Society. "When visitors to New York are looking for one more stop on their bucket list, going to visit Dorothy Parker's grave can now be added."
The gray steeled granite gravestone weighs more than 2,000 pounds and was carved in Barre, Vermont. A fundraising campaign by the Dorothy Parker Memorial Fund allowed fans to support the gravestone. Parker wrote many epitaphs during her lifetime, including the humorous "Excuse my dust" for Vanity Fair. The family chose the last four lines of her 1925 poem, "Epitaph for a Darling Lady":
All her hours were yellow sands,
Blown in foolish whorls and tassels;
Slipping warmly through her hands;
Patted into little castles.

Shiny day on shiny day
Tumbled in a rainbow clutter,
As she flipped them all away,
Sent them spinning down the gutter.

Leave for her a red young rose,
Go your way, and save your pity;
She is happy, for she knows
That her dust is very pretty.
Parker's name is encircled by carved evening primrose. This too is a nod to another Parker poem, the 1929 poem "The Evening Primrose":
You know the bloom, unearthly white,
That none has seen by morning light—
The tender moon, alone, may bare
Its beauty to the secret air.
Who'd venture past its dark retreat
Must kneel, for holy things and sweet,
That blossom, mystically blown,
No man may gather for his own
Nor touch it, lest it droop and fall….
Oh, I am not like that at all!
The family visited the gravesite on August 21, because Hurricane Henri was bearing down on the East Coast. This caused the rescheduling for the unveiling ceremony to be held on August 23. It was in the Woodlawn Chapel, a landmark 1930s building.
Jesse Gelber and the Rounders performed, with special guest Kate Manning on vocals. The attendees heard three songs all by Woodlawn Cemetery permanent residents: "All By Myself" by Irving Berlin, "Mood Indigo" by Duke Ellington, and "I Wished on the Moon" lyrics by Dorothy Parker. The music concluded with "Anything Goes" by Cole Porter. The band also performed at Parker's grave, including "Back in My Own Backyard" which was made popular by Ella Fitzgerald.