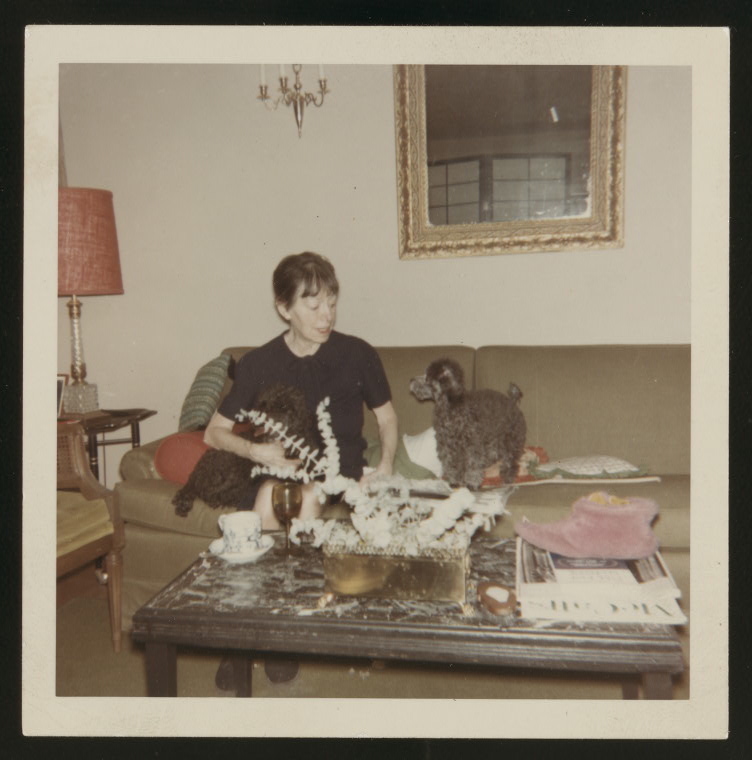 In the summer of 1965 the war in Vietnam was escalating, astronaut Ed White became the first American to conduct a spacewalk, the World's Fair was underway in Queens, and Martin Luther King, Jr. was leading protests from Selma to Chicago. On a July day the assistant city editor from the New York World-Telegram and The Sun went to interview Dorothy Parker at her apartment in the Volney Hotel. She gave a wide-ranging interview. It was published 55 years ago.
The Undaunted First Lady of Wit
Illness has failed to Dull the Edge of Dorothy Parker's Shining Talent
New York World-Telegram and The Sun
August 3, 1965
By Michael Stern
She is small and she looks fragile—oh, so fragile, like one of those thin, thin crystal goblets, more air than glass—but her handshake is firm, her voice is strong, her dark hair still is made up into a jaunty forehead fringe, and she's feeling very much better, thank you.
Dorothy Parker has been ill. For almost the whole year she has been back in New York it has been one damned thing after another. First it was her heart—"the doctors were very brave about it." Then it was a broken shoulder. Then it was bursitis in the other arm. And then it was pneumonia.
The result has been the temporary muting of one of America's great writers, critics, and wits—the woman who said:
Men seldom make passes
At girls who wear glasses
Who, when asked, archly, "How can they tell?" when she was told Calvin Coolidge was dead, who said of a Katharine Hepburn performance, "she ran to the whole gamut of emotions from A to B."
But now Dorothy Parker is quite well, well enough to get along without a nurse—"you are sick as long as you need one"—and she welcomed her visitor with a confident smile.
"I have no news for you, you know. I haven't been out much. I haven't been doing anything but trying to get well. The people at Esquire have been wonderfully patient, but I hope to get back to work very soon."
She pointed to the floor behind the visitor's chair, to the stacks of books that have been sent to her for review.
"They do pile up so," she said. "And so much of it is trash… so many awful books."
She cannot understand why some of them are published. "Probably it is cheaper to keep the presses going." But she is thankful that the day of the dirty book—"the really dirty book"—seems to be waning. She has been getting fewer of them to review in recent months.
Can she think of any new books she liked?
"Oh, of course. I thought Herzog—Saul Bellow's book—was awfully good. And I like Oscar Levant's book—it won't be published until August. A witty man. Gentle, but he hasn't lost any of his angers…
"And I like what I was able to read of the new Victoria book (Elizabeth Longford's Queen Victoria: Born to Succeed). But it's so big, so heavy, I couldn't hold it up."
A small black poodle two-stepped over to the visitor's chair and began kissing his hand—friendly, wet, pink-tongue kisses, on the hand that was writing in the notebook.
"Stop that, Troy… I hope you don't mind."
"Yes, her name is Troy… We had three from her mother. And when they are young, they have no personalities to help you name them. So we called them Première, Deuxième, and Troisième… I could keep only one when I came here, so I kept Troisième. Shortened it to Troy…"
She offered cigarettes and took one for herself. She shifted her thin frame in the big overstuffed chair and smoothed the skirt of her dress over her knees.
"Yes I do want to write more stories—I wish they were better—but no more verses. They weren't very good, you know, and they weren't getting any better. I gave them up a long time ago.
"But that was disappointing, too. No one noticed my magnificent gesture."
And no more screenplays, either?
"No… Even if I wanted to, there's no work out there. All those big empty lots in Hollywood. They aren't exactly jumping out of windows. The buildings aren't tall enough, but…
"Yes, more stories, and maybe a play. I'd love to do another play. Now, The Ladies of the Corridor, I am proud of that, even if they did change the ending. But it didn't do well, you know… ("Ladies of the Corridor is not a pretty play, but it is very acute and often bites with wit." The World Telegram, October 22, 1953.)
But surely she is proud of her short stories, too. "Big Blonde?" "The Wonderful Old Gentleman?" "Soldiers of the Republic?" "Dusk Before Fireworks?" Not proud of those stories, any one of which a lesser writer would have preened himself upon for a lifetime?
"No, not really." She said it matter-of-factly, not mock-modestly.
And was she serious when she told a friend a few years ago that the need for money was what kept her writing?
"Yes. Yes, that's the only reason… It is torture. And so slow. For every five words, I rewrite seven… I used to work in longhand. Now I use a typewriter—just two fingers. I can't really type. And sometimes I still find it hard to hold my arms up to the machine."
"About money… We bought a house in Bucks County some years ago. (Her husband, Alan Campbell, died in 1963). "The idea was to live cheaply, to spend most of our time there, and to go to Hollywood only when we had assignments."
"Well, the house got so expensive, we found we had to take more and more Hollywood assignments to keep it going. It didn't work out."
And she is permanently settled now in the East 70s?
Yes, she said, she probably would continue living in this hotel. She had lived here before. It once had been nicer. It is a small suite, still rather anonymous, with few signs that it is Dorothy Parker's home now—"I haven't had time to have bookshelves built"—except for a row of china figures on a small shelf.
"Those are mine. Napoleon and his marshals… If I knew him, I probably would hate him. A military man… A dictator. But he fascinates me. I read everything about him I can get."
Troy trotted over and kissed the man's hand again.
"Leave the man alone, Troy… Yes, I like being back in New York, even though I haven't been able to get out much. We never liked living in Hollywood. I would have come back sooner after Alan died but there was the house to sell and that takes time…
"Oh, New York politics—such a jumble now. I can't keep track. Are there four or five Democrats running for mayor? I suppose it will be Screvane…
"Yes, I know about Lindsay… Tell me, is this your birthday? Because you can have him."
Does she ever think of reading her works in public?
"It's nice of you to think of it, but I don't think my name means much anymore. I have done it… I tried teaching in California a few years ago at Los Angeles State College. The course was called 'Literature.' American writers. And in the second half, the Angry Young Men of England…
"The students were older. Veterans. And they weren't interested. Out of 65 students, only three were good. Most of them were so narrow. When we were reading Steinbeck—The Grapes of Wrath—they thought it was dirty. One girl told me her mother didn't want the book in the house.
"But then Steinbeck won the Nobel Prize. After that they behaved as if they had given it to him."
And what, finally, of men? Why did she say once in a poem, "scratch a lover, find a foe?" Why does she always write as if all men were heels?
A pause. Then a radiant smile.
"I was younger then," she said. "I don't believe that any more."