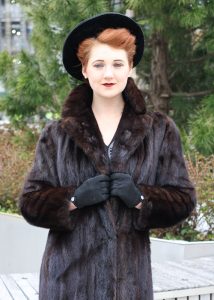 The Repeal Society is holding its 4th annual Repeal Day Party on Thursday, December 5, and they are having at New York Distilling Company, purveyors of Dorothy Parker Gin. The party is hosted by Miss Art Deco Dandy Dillinger and it will feature a special treat for Dorothy Park fans: the mink coat we raised money to purchase two years ago. Fans can try the coat on, for donations to go to the Empire State Center For the Book.
The Shanty, Williamsburg, Brooklyn
79 Richardson St Brooklyn, NYC (between Lorimer & Leonard Street)
8pm to midnight
Among the beautiful New York Distilling Company, home of Dorothy Parker Gin, Perry's Tot Gin, Chief Gowanus Gin, Ragtime Rye and Rock&Rye.
-Live Music from Mike Davis and The New Wonders
– Special burlesque performances by:
– Francine the Lucid Dream
– Audrey Love
– Seedy Edie
– Miss Art Deco, Dandy Dillinger
Enjoy a tasting and 10:00 pm tour of NY Distilling with distiller Allen Katz. Tickets will also include discounts on flasks of NY Distilling's Ragtime Rye (200ml)!
The Dorothy Parker Society will be bringing out from cold storage Dorothy Parker's mink coat! Yes, her actual mink from 75 years ago. For a limited number of guests, you can try on the coat for photos for a suggested donation. Proceeds go to the Empire State Center For The Book, which promotes literacy programs in New York and the New York State Writers Hall of Fame, of which Dorothy Parker is a member.
Tickets are on sale here.
General admission: ($16 in advance, $20 at the Door)
VIP attire: Suit and tie, cocktail attire, vintage, evening wear ($11 in advance, $15 at the Door)
Dress Code:
We encourage Jazz Age/Prohibition-Era/1920s attire!