This week is not only the 126th anniversary of Dorothy Parker's birth, it is also the 20th anniversary of the
Dorothy Parker Society
. Lift your glass today for a toast.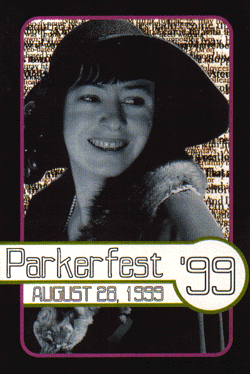 On August 28, 1999, a walking tour set out from the Upper West Side, beginning at 214 West Seventy-second Street (recently demolished childhood home of Dorothy Rothschild). This was the first-ever Dorothy Parker Walking Tour. It wrapped through the West Side, curved south through Central Park, passed an apartment Mrs. Parker would like to forget, and ended at the Algonquin Hotel. Over cocktails in the Blue Bar the DPS was formed. A few hours later the group convened for a performance in Hell's Kitchen of adapted Parker material, Laughter and Hope and a Sock in the Eye, by Christine Hahn and Susanna Hobrath. The long day ended with Champagne and gin at Texas Guinan's former speakeasy, Flute.
During the past 20 years the DPS has been involved in many activities and hosted scores of fun events. We have dedicated bronze landmark plaques at Dorothy Parker's birthplace and teen-age home. For many years we held Parkerfest in August, with everything from readings and talks to a speakeasy boat cruise. There has been scores of events held at the Algonquin Hotel. When New York Distilling Company launched Dorothy Parker American Gin, we were among the first to champion it (and drink it). For two years the DPS volunteered at the Police Athletic League, mentoring kids in Hell's Kitchen. For the the 40th anniversary of Dorothy's death, we held a party in a Communist bookstore with Broadway stars reading pieces. Our most recent stunt was acquiring the mink coat in 2017.
There have been expansions of the DPS in Los Angeles and Seattle; the Emerald City fans hold monthly book club meetings. We have heard from Mrs. Parker fans in Russia and South Africa, and performances of her work have been held across the U.S. and many other countries. Her work was translated so it could be performed in the Netherlands and Brazil (which once had a Dorothy Parker-theme nightclub), into French and German. Fans get tattoos and send us the results.
The DPS came about following the November 1988 launch of the website that would become dorothyparker.com. At the time it was a pasted-together series of HTML pages, hand coded, with first-generation digital photos. It was mentioned in the Times in December 1999 and was a Yahoo pick for a website to visit. The site has evolved and grown and now is more than 1,000 pages deep. The site spawned a book in 2005, and many others.
This site was created 10 years before Facebook, but of course we needed a Facebook Group to drive visitors to the site. We are the oldest Dorothy Parker site online and on social media.
Looking back over the past 20 years, Dorothy Parker has more work in print today than when she died in 1967. There has been a proliferation of interest in her life and work. With the Dorothy Parker Society strong and active, we all know she won't go out of print and will not be forgotten.
Thanks for taking part in this journey. Thanks to all who keep Dorothy Parker's spirit alive. And Happy Birthday.