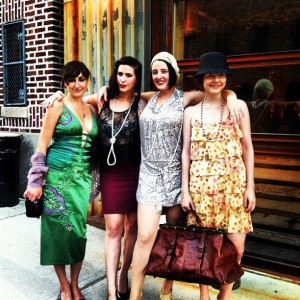 New York will remember the 125th anniversary of Dorothy Parker's birthday with two events open to the public on Wednesday, August 22. She was born Dorothy Rothschild on Aug. 22, 1893, in Long Branch New Jersey. A walking tour of her Upper West Side neighborhood will be held from 3:00-5:00 p.m. Then the festivities transfer to Brooklyn for the birthday gala at the New York Distilling Company at 6:00 p.m., annual party at The Shanty, 79 Richardson Street, Brooklyn, NY 11211.
Bring your friends, this will be a day to remember. If you need to leave work early (or skip it entirely in the spirit of Mrs. Parker) make your plans now:
Walking Tour
Visit Dorothy Parker's neighborhood and walk in her footsteps to her former apartments, haunts, school and more. See one of the most beautiful and historic neighborhoods through the eyes of a young Dorothy Parker. Learn about the history of the Upper West Side, its architecture and development, all tied into the life of Mrs. Parker. See more than a dozen locations tied to Mrs. Parker, as well as see scores of local landmarks, architectural gems and historic sites.
Meeting point: West 72nd Street and Riverside Drive, New York NY 10025
Buy advance tickets here or at the tour meeting point.
Birthday Party
The New York Distilling Company produces the world-famous and bestselling Dorothy Parker American Gin. It is a blend of traditional and contemporary botanicals including juniper and elderberries, citrus, cinnamon, and hibiscus. The Shanty, attached to the distillery, is the cozy home to numerous Dorothy Parker Society parties. Tonight we will raise our glasses to Mrs. Parker in grand style:
* Drink specials for the night and a special $5.21 Dorothy Parker Gin Martini from 6-8 p.m.
* Reading of your favorite Parker poems 7:30 p.m.
* Raffle for a bottle of Dorothy Parker Gin and books at 8 p.m.