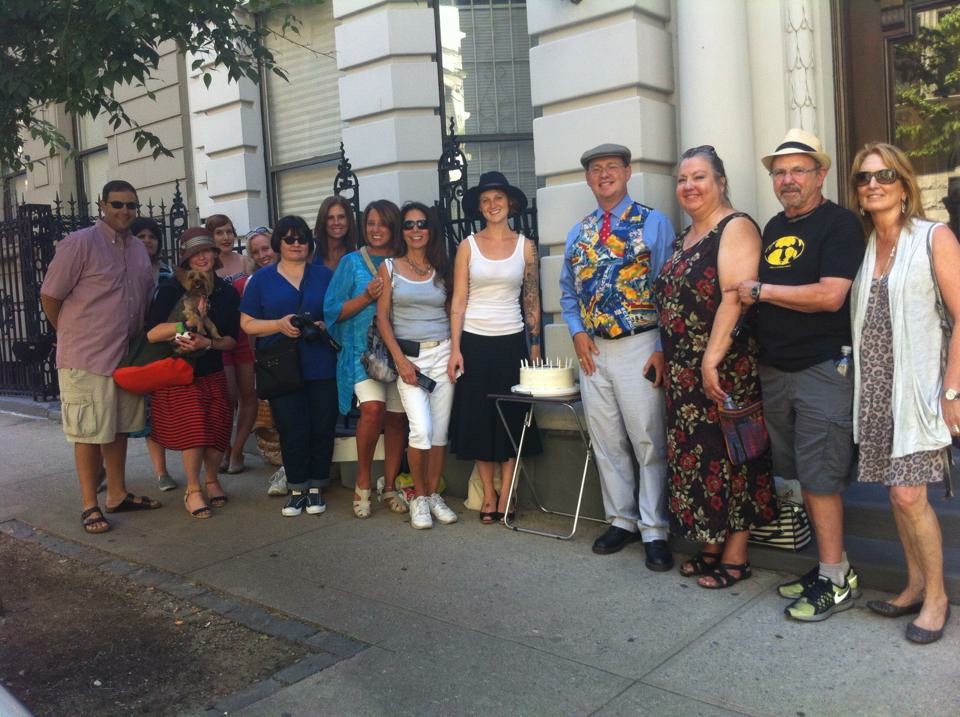 We held the 2016 Parkerfest of Dorothy Parker's birthday in New York, and we had a toast with the Los Angeles chapter, celebrating on the West Coast.
Dorothy Parker Upper West Side Walking Tour. We went to Mrs. Parker's neighborhood and walked in her footsteps to her former apartments, haunts, school and more on the Upper West Side, all tied into the life of Mrs. Parker. We enjoyed a cake baked with vermouth from Miss Art Deco herself, Dandy Dillinger.
Then that evening was the Dorothy Parker Birthday Party. The highlight was reading Parker poems on the floor of a gin distillery! The Shanty/NY Distilling Co. 79 Richardson St, Brooklyn. We went back to the distillery that makes the award-winning Dorothy Parker American Gin. The festivities started at 7 with a free tour of the distilling operation, where we got a lesson in how gin is distilled. We saw the operation that turns water into gin! Immediately after the tour we moved to The Shanty attached to the distillery, for our party and poetry readings. From 7-9pm enjoy martini specials "But two at the most" for two martinis for $18.93 (Dorothy's birth year). Made with Dorothy Parker Gin.