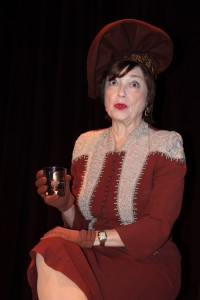 A new Dorothy Parker show opens on Friday, April 1, as part of the Tennessee Williams Literary Festival in New Orleans. From the press release:
WIT & WRATH: THE LIFE AND TIMES OF DOROTHY PARKER
Written and performed by Claudia Baumgarten; Directed by Diana Shortes; Musical accompaniment by Lulu.
Are Dorothy Parker's self-deprecating quips, biting theater critiques, incisive social observations, and poignant short stories relevant and entertaining in the 21st century? See for yourself! In Wit & Wrath: The Life and Times of Dorothy Parker, Claudia Baumgarten explores Dorothy Parker's tumultuous personal life, her reflections upon American society from the Jazz Age through the 1950s, and her opinions on politics, men and the crassness of Hollywood. Most importantly Mrs. Parker's writings are the focus of this one woman show that recognizes her as a trailblazer and a formidable yet deeply empathetic woman.
Friday April 1st at 11 A.M. at Le Petit Theatre, 616 Saint Peter Street, $25.
Tickets and full program are available at www.tennesseewilliams.net.