The Algonquin Hotel sent us the information about the live music coming to the hotel in May. Here's the press release:
Live music at The Algonquin has been a long tradition starting in 1939 when the hotel welcomed Vienna-born singer, Greta Keller, and Cy Walter at the piano as the first performers in the hotel's new supper club. The tradition continued over the years, from Ella Fitzgerald serenading the owners in the lobby in the 50's, to the Oak Room, which launched the careers of Michael Feinstein, Harry Connick Jr. and Andrea Marcovicci.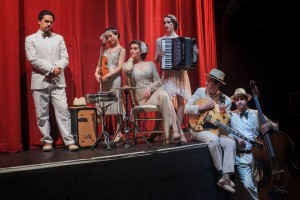 In May, Autograph Collection Hotels will present the up and coming jazz band, Carte Blanche in a series of concerts in the hotel's iconic lobby.
"We are thrilled, as part of the unique Autograph Collection Hotels, to expose a new generation of music lovers to the hotel. The lobby will once again be filled with the vintage sounds of the 20's and 30's for the after work crowd and for those looking to escape back to the roaring jazz days of New York City," says the hotel's General Manager Manny Rappenecker.
Starting on May 5, Carte Blanche will perform every Tuesday in May with all six members and their captivating sounds from 7:00PM through 9:30PM. A specialty cocktail menu will be available in the lounge, which will be curated by the New York Distilling Company, the distillery behind Dorothy Parker American Gin. The music will resonate throughout the entire first floor, so patrons coming to dine at The Round Table restaurant or drink in Blue Bar will be able to enjoy the performances as well.
Those who cannot make it can follow along on social media. The hotel will live stream parts of the performance via Meerkat. Autograph Collection and The Algonquin will post videos and photos on their official Instagram account and will use the hashtag #AlgonquinJazz.
The hotel also offers guests free wifi and encourages everyone to share content with their social circles.
Performance Dates: May 5, May 12, May 19, and May 26
Time: 7:00PM – 9.30PM