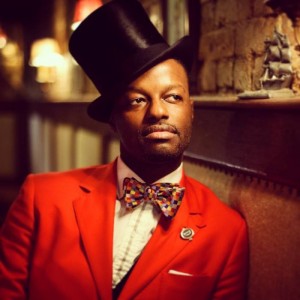 The Dorothy Parker Society is honored to be teaming up with Wit's End for so many years on our joint monthly speakeasy parties. This month, Wit's End will be celebrating its 6th Anniversary with a huge party, featuring live music from Dandy Wellington and His Band, on Saturday, Feb. 28, at Flute Midtown.
Because the Dorothy Parker Society doesn't have meetings (we have parties), we always look forward to events with Wit's End. There are four hallmarks of the party: Live hot jazz, free dance lessons, vintage cocktails, and period attire. A fifth could be that the people who attend are amazing. It's been a fantastic partnership over the years, and we are happy to be continuing.
Inspired by the Big Band era of jazz, Dandy Wellington and his Band have taken the sounds of the 1930s and 40s and created a world of well dressed music. With a passion for obscure songs steeped in the jazz tradition, Dandy Wellington has assembled a catalog of music that invokes an atmosphere of class. From the golden age of cinema, to the bounce of New Orleans, each song is hand selected and played to perfection by a band cut from the cloth of elegance. They have recently played the Rainbow Room on the top of Rockefeller Center, the SoHo Grand Hotel, Hotel Chantelle, and Macao Trading Company. To find out more about Dandy follow him on Instagram and Twitter, as well as his official website and Facebook.
Here is a video of the band in action:
Repeal Day Eve @ Hotel Chantelle from Hotel Chantelle on Vimeo.
The venue is Flute Midtown, 205 W. 54th Street, at Broadway. This was Texas Guinan's Club Intime, one of the hottest speakeasies in the Roaring Twenties. Flute has been featured in the books The Algonquin Round Table New York: A Historical Guide and Under the Table: A Dorothy Parker Cocktail Guide. The bartenders will be serving vintage cocktails just like it's 1924. You can expect the best French 75, Sidecar, and London Buck.
When the band isn't performing, enjoy the vintage music of DJ, radio show host, and barber Mike Will Cut You. Follow Mike on Instagram and Twitter.
Be sure to meet our lovely hostess, burlesque showgirl Kita St Cyr. Kita has performed all over the country and is a sweetheart. Follow Kita on Instagram and Twitter.
A big part of the night is the free dance lesson. These are given by Jeri Lynn Astra Turner-Barnes and Neal Groothuis, who are the most talented Jazz Age dance instructors in New York. You will learn some new steps, then try them out with the live band.
Doors open at 7:00 pm, the dance lesson is approximately at 8:30 pm. The band starts after 9:00 PM.
Dress Code: Jacket and tie, vintage or vintage-inspired, Jazz Age, evening wear, cocktail attire is encouraged! No denim jeans or T-shirts.
Tickets: Just $15 at the door. Advance tickets on sale here.
Table reservations are available and encouraged; telephone Flute Midtown reservation line at 212.265.5169 to reserve a table.