I am really excited to learn a member of the Dorothy Parker Society is continuing an amazing project that would tickle Mrs. Parker to know about. Actress-Singer Kimberly Faye Greenberg is bringing her one-woman show Fabulous Fanny: The Songs and Stories of Fanny Brice to 54 Below in Manhattan on February 12, 2015.
When I was editing Dorothy Parker Complete Broadway, 1918-1923, I came across scores of references to Fanny. Mrs. Parker was a big fan of the Ziegfeld Follies, and always gave good reviews to Fanny, year after year. In 1921, Mrs. Parker printed Fanny's immortal line, "I've been a bad woman—but such good company," and said her appearance in the Follies that year was the highlight.
Ninety-four years later, a big fan of Fanny's has put together a show that showcases her gifts. Kimberly was kind enough to give us a question-and-answer about the show, and what attracts her to the life of Fanny Brice.
What first drew you to Fanny, and why did you want to produce your show?
Well, actually I think I was destined to play her! My middle name is "Faye" —named after my great grandmother, Fanny! How perfect is that? Then in my teenage years I was told that I looked like her and if I was going to grow up to be a performer I should study her to play her in Funny Girl. Ironically enough I have never done Funny Girl, but with those building blocks of watching her and studying her, the universe threw me many other Fanny Brice projects. First the Off-Broadway show, One Night With Fanny Brice, then in the on-going Broadway-bound musical Ghostlight (a large scale show based on the Ziegfeld girl Olive Thomas in which Fanny Brice is one of the characters), and now my own touring solo show Fabulous Fanny, that is coming to 54 Below on February 12th at 7pm!
I wasn't actually planning to do another solo show after performing in the one Off-Broadway, but several groups had seen me in that show and wanted more so they commissioned me to write another show! And the rest is history. Not only has Fabulous Fanny been touring all over the East, but also I released the cast album in July and that has taken off as well. I'm truly thrilled to be able to continue and honor her legacy in the most realistic way possible.
Is there something you learned about Fanny that inspires you?
She inspires me daily! Fanny was so independent, confident, she was not afraid to do things out of the ordinary and, of course, so full of chutzpah! In portraying Fanny I had to bring all these qualities in myself to the forefront and bring them out on stage, and, the more I did that, the more I realized how these things have all become a large part of me in my own daily life. She has helped me to become who I am! I couldn't be more grateful.
What is it about the era Fanny performed in that makes it appealing to you?
I LOVE the 1920s through the 1940s! I always have. Long before I even knew Fanny would be such a huge part of my life. In some instances I almost feel like I was born after my time especially since I not only play Fanny but so many other historical women in other theatre projects. I just love the music, the evolving independence/leadership/sexual freedom women began to take along with their fashion that evolved with it. The architecture, the newness of Broadway, and World War II. I'm highly fascinated by WWII
What's your favorite Fanny song and what's it mean to you?
I think this might surprise people because it's very much one of her lesser-known tunes (but a standard regardless), it's "If You Want The Rainbow, You Must Have The Rain." Not only is the tune itself beautiful in its simplicity, but it's also the meaning of this song that I love. The whole song is about if you want anything good to happen in life then you must face the bad and keep on keeping on no matter what, and good things will eventually evolve that usually end up being better then you ever thought they could be. And boy, can I relate, as I think most people can. In a way too the song becomes a celebration if I'm in good spirits or pushes to keep me moving forward if things are awry as well.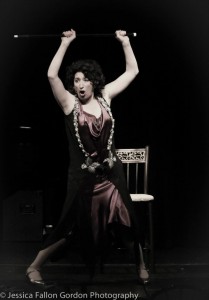 If Fanny were around what do you think she'd make of the Broadway scene today?
You know, that is a really good question, I'm not sure. Fanny was alive in its heyday. So I would more aim to think she wouldn't like the fact that contemporary musical theater has sort of lost a lot of its glitz/glamour due to trying to recreate a more film-like "real" atmosphere on stage. The spectacle of a Ziegfeld Follies rarely exists anymore and that's what she was used to. But on the other side of the coin, her affiliation with "My Man" and just standing there and singing with no spectacle involved and, of course, being the first torch singer and wanting to carve out a niche for herself of being a more "real" performer and not just pigeonholed as a comedienne. Perhaps she would like the evolution of the contemporary musical. Who knows…regardless today, she would be thrilled we are still honoring the legacy of American musical theatre for which she was a part.
Ticket and show information:
Fabulous Fanny: The Songs And Stories Of Fanny Brice
Experience the closest you'll ever get to the legendary Fanny Brice on stage!
February 12, 2015
7pm
54 Below, Broadway's Supper Club
254 West 54th Street
New York, NY 10019
Tickets and information are available here. (There is a $5 discount by typing greenberg5 at checkout). There is a $25-$35 cover charge and $25 food and beverage minimum. Premium tickets are currently available for $60. Tickets on the day of performance after 4:00pm are available by calling (646) 476-3551.
Press Release Information:
54 Below, Broadway's Supper Club, presents Kimberly Faye Greenberg in Fabulous Fanny: The Songs and Stories of Fanny Brice. In this intimate "Fanny Brice" solo show, Kimberly shares her extensive research not as another tribute, but to personally reveal Fanny's heart and humor, soul and song. Look into the life and relationships of the legendary Fanny Brice, greatest Jewish singing comedienne of her time and inspiration for the musical Funny Girl.
Along the way, you'll hear the familiar tunes "My Man", "Second-Hand Rose", "Rose of Washington Square", "Cooking Breakfast for the One I Love", "When a Women Loves A Man", "Sadie Salome", and many more that sparked Fanny's fame. Brian Childers (Danny & Sylvia, Love Quirks) directs the performance; Justin Boccitto (Dance/Speak: The Life of Agnes De Mille, One Night With Fanny Brice) will provide choreography; Jeff Biering (Danny & Sylvia, Naked Boys Singing) will serve as musical director; and, piano accompaniment will be provided by Julianne B. Merrill (Allegro). The creative team includes costume designer Ryan Mattheiu Smith (Adventures of Sweet Yellow); creative consultant, Kimberly Rehfuss (Broadway's Taboo); management, The Bohemia Group; and, booking agent, MainStage Artists.
"Kimberly has the vivacity and voice of Fanny Brice," says the New York Times, with The Associated Press declaring her a "Warm, Sassy Diva!" Most notably, Kimberly is the first and only actress ever to star in two legitimate Off-Broadway musicals at the same time with leading roles in Danny and Sylvia: The Danny Kaye Musical (as Sylvia Fine, a role she played for over three years), and the solo show One Night with Fanny Brice (receiving a Patrick Lee IBTA Best Solo Performance Award nomination amongst fellow nominees, John Leguizamo, Michael Shannon and Michael Birbiglia). Like her own personal muse, Kimberly will once again portray Fanny Brice in the Broadway-bound musical Ghostlight by Matthew Martin and Wunderkind's Tim Realbuto. She has been involved in the workshop and reading stages of Ghostlight for several years, and originated the role in the New York Musical Theatre Festival (NYMF) production at The Signature Theatre in 2011.
As the creator and star of her touring solo show Fabulous Fanny, Kimberly has played numerous venues including the Jewish Museum of Monmouth County, Freeport Concert Association and as part of the 10th Anniversary Season of Group Theatre Too in NYC (For a full listing please visit fabulousfannybriceshow.com).
Quickly becoming the "go-to" gal for Fanny, Kimberly has guest-starred as Brice at the Wit's End in NYC, Cabaret Today, The Lunch and Judy Show, Spotlight, Ginger New York, The Sissy Gamache Show, and many more. Ms. Greenberg is sought out for her in-depth Brice perspective, with interviews and articles published in various circuits including the vintage nouveau Zelda Magazine.
Bwaytunes.com called Kimberly's newly released Fabulous Fanny cast album an "effervescent toast to Fanny Brice", and has featured it among the New and Recommended CDs, as well as on its Top 5 Best of 2014 "Less Mainstream" releases. The Examiner called it a "must have CD" and American Theater Web called it "superb" stating that "it resurrects tunefully and hysterically so many of the songs that Brice performed." With musical accompaniment and additional arrangements by Christopher McGovern (Backwards in High Heels) and two never-before-released songs from her upcoming Broadway show Ghostlight, the CD received over 200,000 plays in its first month on Pandora. You may download or stream your own copy on all the major music sites.
A graduate of University of California, Irvine, Kimberly has also performed in 50+ leading roles across the United States, in national tours, Off-Broadway, Off-Off Broadway, regional theaters, cabarets, cruise ships and theatre for young audiences. She most recently starred in the New York (and American) premiere of the hit West End musical transfer Lift Off-Off Broadway with Beautiful Soup Theatre Collective at The Richmond Shepard Theatre. TV/Film credits include: The WB's Charmed; Between The Lions (PBS); Buffy the Vampire Slayer (The WB); ER (NBC); and, The Singing Biologist (Starring Imani Coppola). Her television and online hosting credits include: Broadwayblogspot.com, the documentary Secrets of Broadway (Emmy Award Winning Producer/Director Len Stone) alongside a bevy of Broadway talents including Drama Desk Award winner Donna Lynne Champlin and nine episodes of the educational TV series Personal Best.
Behind the scenes Kimberly also works as a Broadway wardrobe dresser swing (over 17 Broadway shows including, most recently, Cinderella, Side Show, and Cabaret) and is the Executive Producer/Creator of the aforementioned educational Broadway website Broadwayblogspot.com.