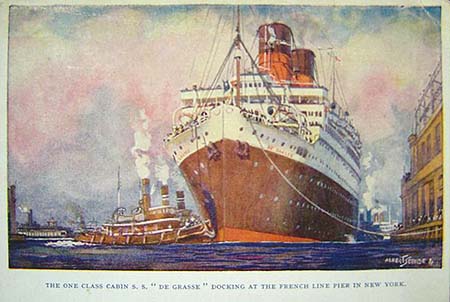 With my new book The Algonquin Round Table New York: A Historical Guide (Lyons Press) coming out on Jan. 6, I have been putting some of the research material online.
This brief newspaper report about Dorothy Parker arriving on a steamship in New York Harbor is from the New York World, Feb. 1, 1930. She was returning from Switzerland, where Mrs. Parker had been providing moral support for her dear friends Gerald and Sara Murphy, while their young son battled tuberculosis in an alpine treatment center. What I like is that this shows she was trying to write a novel, which, as we all know, she never accomplished.
Dorothy Parker Here, Her New Book On Way

Author Arrives on De Grasse—Denies She's a Wit, Admits Working on Novel

New York World, Feb. 1, 1930

Dorothy Parker, author, slender from mountain climbing in Switzerland, returned from Europe yesterday aboard the French liner De Grasse. One month here and then back again, she announced as her program.

While being asked how she liked New York's skyline and what she thought of American women, Mrs. Parker took the opportunity to deny she was a wit.

"I don't know how such a legend ever grew up about me," she said. "It is what others create, and I learn later I am responsible for the authorship. I am not a wit at all. Only a hard-working woman, who writes for a living and hates writing more than anything else in the world."

While abroad she has been working on a new book—a novel—the subject of which she would not name.