There is a Dorothy Parker production coming to Off Broadway, at the Soho Playhouse, in October and November.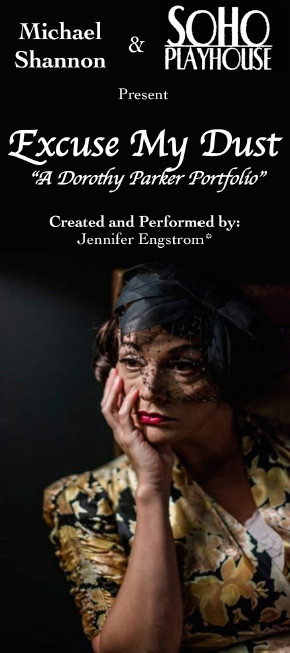 Excuse My Dust (A Dorothy Parker Portfolio)
October 5th, 2014 – November 9th, 2014
Soho Playhouse
15 Vandam Street
New York City NY 10013
(212) 691-1555
Get tickets here.
From the press release:
Michael Shannon will present the New York Premiere of EXCUSE MY DUST (A DOROTHY PARKER PORTFOLIO), written and performed by Jennifer Engstrom. Directed by Darren Lee Cole, previews begin October 5 at SoHo Playhouse with opening night set for Sunday, October 19.
Dorothy Parker once suggested that her epitaph read, "EXCUSE MY DUST." A fitting notion, as her remains were left untended in a New York City law firm's filing cabinet fifteen years after her cremation. Join veteran Chicago actress Jennifer Engstrom in an exploration of New York's most celebrated wit, uncovering the soul of the woman through characters from five of Parker's short stories.
"I picked up The Portable Dorothy Parker, and to my amazement, I was a Dorothy Parker 'type' – as were every one of my best girlfriends," notes Engstrom. "Here was a woman who in the 1920s and '30s said and wrote the most hilarious, touching and revealing things about herself and the world in which she found herself. In EXCUSE MY DUST, I do not portray Ms. Parker herself, only breathe life and give form to the leading ladies in her stories," Jennifer Engstrom is a Chicago-based actress whose credits include John Clancy's Fatboy (Orgie Award for Outstanding Actress), Sweet Bird of Youth at The Goodman, A Streetcar Named Desire at Writers' Theatre (directed by David Cromer), The Hot L Baltimore at Mary-Arrchie Theatre Co (directed by David Cromer), Are You Now or Have You Ever Been? (Jeff Award for Best Ensemble) at Next Theatre Company; Flaming Guns of the Purple Sage at Defiant Theatre (After Dark Award for Outstanding Production), A Streetcar Named Desire at the Williamstown Theatre Festival, Ground at the Humana Festival and Macbeth at the Notre Dame Shakespeare Festival and Sky Girls at Northlight Theatre (Jack Springer Award for Outstanding Actress).
EXCUSE MY DUST (A DOROTHY PARKER PORTFOLIO) runs October 5 – November 9, Friday – Sunday at 7:30pm. SoHo Playhouse is located at 15 Vandam Street between Varick and Avenue of the Americas. Tickets are $18.00, available at 212-691-1555. Get tickets here.