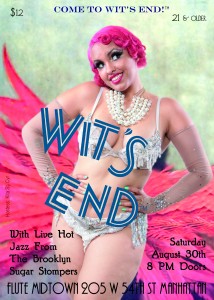 The Dorothy Parker Society monthly party with Wits End is Saturday, August 30, at Flute Midtown, 205 West 54th Street, Manhattan. Drink Prohibition era cocktails and dance to live hot jazz from the Brooklyn Sugar Stompers. Join us as we celebrate the birthday of our lovely hostess, burlesque showgirl Kita St Cyr! Pay tribute to one of her favorite stars, Josephine Baker! Come in your finest jazz age or vintage inspired attire (or Josephine Baker style) to celebrate in style with live hot jazz and specialty cocktails in an authentic 1920s speakeasy (Texas Guinan's Club Intime of the 1920s is now Flute). DJ Michael Haar will be playing hot jazz between sets.
Dress code: Jacket and tie, vintage or vintage-inspired, Jazz Age, evening wear, cocktail attire and of course, seasonal. 1920s, 30s and 40s vintage or Josephine Baker attire is encouraged.
Just $12 at the door! Doors open at 8pm; Free dance lesson at 8:30. Advance tickets can be purchased here. More information here.