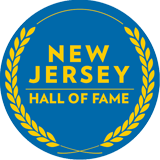 The Dorothy Parker Society has been lobbying to get Mrs. Parker inducted into the New Jersey Hall of Fame for years. Now Mrs. Parker's literary executors and estate, the National Association for the Advancement of Colored People, are backing the cause.
In a statement released on June 12, the NAACP called on everyone to vote for Mrs. Parker to join other New Jersey greats, from Bruce Springsteen to Frank Sinatra. Mrs. Parker was born Aug. 22, 1893, in Long Branch. "The NAACP fully supports that Ms. Dorothy Parker be inducted into the New Jersey Hall of Fame," the statement says:
"Ms. Dorothy Parker not only symbolizes a significant figure in the Civil Rights Movement, but she represents the human spirit that goes beyond race, gender, ethnicity or religion. She continuously fought against injustice and intolerance regardless of the popularity of her opinion. Ms. Parker established a legacy of justice and tolerance in which was entrusted to Dr. Martin Luther King Jr. and in the event of his death, it was then donated to the NAACP."
Vote here. The thirty-day voting period ends on midnight, June 20, 2014.
The NAACP maintains a memorial garden for Mrs. Parker outside its national headquarters in Baltimore.
In 2014, the New Jersey Hall of Fame has moved Mrs. Parker to the Arts & Letters category. Other nominees this year are: Alexander Calder, Junot Diaz, Thomas Fleming, John McPhee, George Price, Alfred Stieglitz, Dr. George Theophilus Walker, Brian Williams, and one of Mrs. Parker's friends, Edmund Wilson.
Mrs. Parker was nominated in 2011, but was beaten out by Joyce Carol Oates.