Dorothy Parker loved good food and cocktails, so it makes sense to celebrate in her style with a fantastic night in New York at the glamorous Hotel Chantelle with drinks, dinner, live jazz – and her cocktail guide on the table.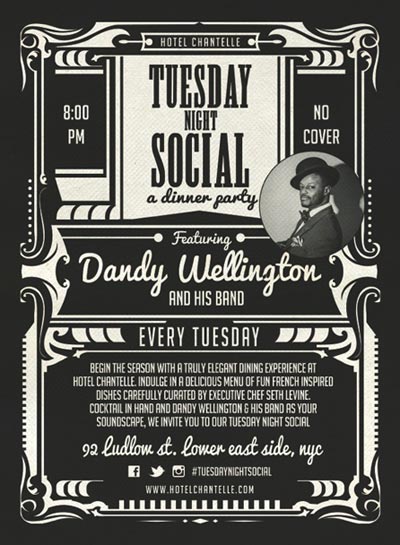 I'm going to be signing copies of Under the Table: A Dorothy Parker Cocktail Guide (Lyons Press) and you're going to be enjoying the music of the inimitable Dandy Wellington and His Band on Tuesday, June 24, for his Tuesday Night Social. It's a perfect mix of food and drink, with live jazz all night long.
Dandy Wellington and his band's music and photos are online. He's well known for his impeccable clothes. His incredible style was featured on CBS Sunday Morning last weekend. This is a great chance to enjoy seeing one of New York's most exciting entertainers perform.
About the party: In Hotel Chantelle's Lobby Lounge you can indulge in a delicious menu of New Orleans inspired dishes carefully curated by Executive Chef Seth Levine. Couples swing to the Hot Jazz sounds of Dandy Wellington and His Band under a canopy of copper, while they enjoy classic cocktails made from the finest and freshest ingredients.
Info:
7:00-12:00 Dinner Seating
7:00-9:00 Book Signing
8:00-11:00 Live Music and Entertainment
Prix Fixe Dinner
Classic Cocktails
Wine and Champagne (Second bottle is complimentary!!)
Dancing: Room for social dancing: 3 couples or less.
Hotel Chantelle
92 Ludlow Street
NY, NY 10002
For Reservation Call: (212) 254-9100
Facebook page.