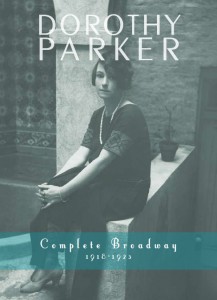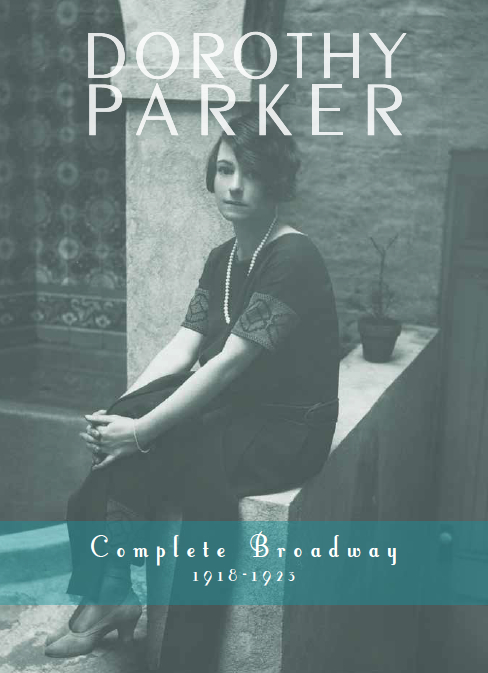 The press release goes out today, so now my secret project for the last five years can finally be announced: Dorothy Parker: Complete Broadway, 1918-1923. I think anyone who is a fan of Dorothy Parker will enjoy this news. The book comes out 5-14-14 and is available now via iUniverse. It will be in all other online booksellers after May 14. I recommend the best way to get the book is to go to a local bookstore and order it; the book weighs almost 2 pounds and is more than 500 pages. The ISBNs are listed below. Read on!
NEW DOROTHY PARKER BOOK EXPLORES OLD BROADWAY
—Dorothy Parker Society president Kevin C. Fitzpatrick announces new book,
Dorothy Parker: Complete Broadway, 1918-1923, collects dramatic reviews
New York— The groundbreaking Broadway reviews of the inestimable Dorothy Parker are collected in one volume. For the first time in nearly 100 years readers can enjoy Mrs. Parker's sharp wit and biting commentary on the Jazz Age hits and flops. Starting when she was 24 at Vanity Fair as New York's only female theatre critic, Mrs. Parker reviewed some of the biggest names of the era: The Barrymores, George M. Cohan, W.C. Fields, Helen Hayes, Al Jolson, Eugene O'Neill, Will Rogers, and the Ziegfeld Follies. Her words of praise—and contempt—for the dramas, comedies, musicals, and revues are just as fresh and funny today as they were in the age of speakeasies and bathtub gin.
"If I were to tell you the plot of the piece, in detail, you would feel that the only honorable thing for you to do would be to marry me," she wrote
This collection brings together more than 150,000 words written by Dorothy Parker for Vanity Fair, Ainslee's, and newspapers from 1918-1923. It is annotated with a notes section and foreword by Kevin C. Fitzpatrick, president of the Dorothy Parker Society.
Since her death in 1967, nearly all of Dorothy Parker's poetry and fiction have been collected into handsome volumes. Now, for the first time, all of her Broadway reviews from 1918-1923 have been located and presented to a new generation of readers. These pieces were Mrs. Parker's bread and butter in the era of the Algonquin Round Table, the day job that paid the bills while she wrote light verse and short stories on the side. This book is the first collection of more than sixty of her drama columns.
About the Author
Dorothy Parker (1893-1967) was a successful poet, writer, critic, Oscar-nominated screenwriter, and champion of social justice. Among the best-loved titles of her work are The Portable Dorothy Parker, Complete Poems, and Complete Stories. Mrs. Parker is a member of the New York State Writers Hall of Fame.
About the Editor
Kevin C. Fitzpatrick is the author of A Journey into Dorothy Parker's New York and Under the Table: A Dorothy Parker Cocktail Guide. He co-edited The Lost Algonquin Round Table: Humor, Fiction, Journalism, Criticism and Poetry From America's Most Famous Literary Circle. In 1999 he founded the Dorothy Parker Society and launched dorothyparker.com.
To Order: Dorothy Parker: Complete Broadway, 1918-1923, by Dorothy Parker (author) Kevin C. Fitzpatrick (editor), Donald Books, May 2014; ISBN: 978-1-49172-267-1 (hardcover), 978-1-49172-265-7 (perfect bound softcover), 978-1-49172-266-4 (e-book).