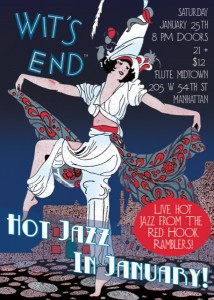 The Dorothy Parker Society doesn't have meetings, it has parties. And our first one of 2014 is going to be a great one. We are back with another fun night with Wit's End! Saturday Night, Jan. 25, Celebrate the Jazz Age! Come to the former speakeasy Flute Midtown, 
205 West 54th Street (near Broadway). 
Our band this month is the Red Hook Ramblers, one of the hottest of the hot jazz bands in the city. They are incredible to see live. Our hostess is showgirl Kita St Cyr, star of stage and computer screen. Tickets are $12 at the door. Advance tickets available now via Brown Paper Tickets.
Doors open 7:00; free dance lessons 8:30. Come out and learn a few steps before the band goes on. Dress code: Jazz Age, eveningwear, 1920s, '30s and '40s vintage is encouraged! Coats for gentlemen; no sneakers or jeans. Must be 21+.
Table reservations are available and encouraged; telephone Flute Midtown reservation line at 212.265.5169 to reserve a table.