I wanted to write about Brooklyn and the Algonquin Round Table today, because the Brooklyn Book Festival is on Sunday. I'll be there talking about my new book at Booth 158 with Jamie Brenner. While Dorothy Parker never had a love nest in Brooklyn, or tried to jump off the Brooklyn Bridge, there are five members of the Vicious Circle with strong ties to the Borough.
I've been giving my Algonquin Round Table Walking Tours for almost 15 years (the next is Sept. 28), and one thing I love talking about is the members you never hear about. This happens a lot. This week there's been some buzz about a lost Ernest Hemingway short story being published in Harpers, snubbing Vanity Fair (which had rejected it in 1924). The story is about Hemingway and Donald Ogden Stewart, who was an early Round Table member that is not often recalled today. So the "second tier" Vicious Circle members do pop up in pop culture often.
I have been researching the Round Table for quite a bit, and always look for places outside of Manhattan that have ties to the group. In the spirit of this week being "New York's largest free literary event" (take that New Yorker Festival), here are five members with ties to the City of Churches that once lunched at the Algonquin Hotel on West Forty-fourth street.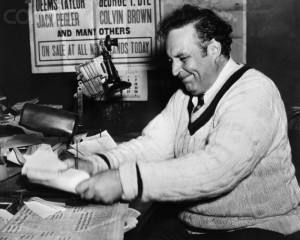 Heywood Broun (1888–1939): Sportswriter at the New York Tribune, columnist at the New York World, author; helped found the Newspaper Guild. Broun was born in Brooklyn Heights on Pineapple Street. His father was a successful small businessman and both sides of his family went way back in Brooklyn. The family later moved to the Upper West Side. Broun was beloved. When he died in 1939, more than 3,000 people attended his funeral at St. Patrick's Cathedral.
Herman J. Mankiewicz (1897–1953): Press agent, early New Yorker drama critic; cowrote plays with George S. Kaufman, produced Marx Brothers movies. Won an Oscar for co-writing Citizen Kane. Everyone has heard of "Mank" who watched Citizen Kane. Mankiewicz joined the Round Table later than the rest because when World War I ended, he stayed behind to work in publicity in Germany (he was a Columbia grad and spoke fluent German). Mankiewicz moved to New York with his young wife and rented a place near Bay Ridge. All of the experiences Mankiewicz got in New York newspapers he channeled into his Citizen Kane script with Orson Welles. He rode the train from Brooklyn to be one of the first members of The New Yorker in 1925.
William B. Murray (1890–1949): Writer and publicist. Murray was a music critic on the Brooklyn Eagle and later head of radio sponsorships at William Morris. Nobody remembers Bill Murray today. If he's remembered for anything, it's that his first wife, Natalia Danesi, had a 40-year affair with Janet Flanner. Murray was a whip-smart publicity guy who was at the very first Round Table meeting in June 1919. He was a pioneer in sponsorships. Murray later married Ilka Chase. Murray's son, William Jr., was a longtime member of The New Yorker.
John V. A. Weaver (1893–1938): Poet who wrote in street vernacular, literary editor of the Brooklyn Eagle; married Peggy Wood. Weaver was ahead of his time. He was born in North Carolina and raised in Chicago. He was discovered by H. L. Mencken who championed his writing in "American" prose. Find Weaver's books, they have amazing free verse set in the 1920s and 1930s, where he wrote about soda jerks, shop girls, and everyday workers. He died young of tuberculosis.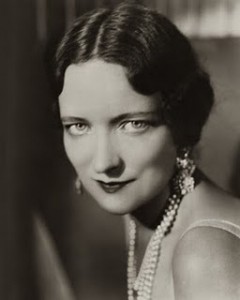 Peggy Wood (1892–1978): Actress in musical comedies, plays, early TV star. Wood has the strongest Brooklyn connection of the bunch. She was born and raised in Park Slope, the daughter of a successful magazine editor. Wood had a 60-year acting career, stretching from silent pictures, Broadway, into live TV. After Weaver and Wood married, they lived in Brooklyn Heights. She humorously bemoaned this fact that she returned to Brooklyn when she was appearing in hit shows on Broadway. After Weaver's death, she toured colleges reading his poems. If you can't place her, Wood was nominated for an Oscar for playing the mother abbess in the classic The Sound of Music.
These are just some of the Brooklyn connections to the Round Table. I will talk more about it at Booth 158 on Sunday.