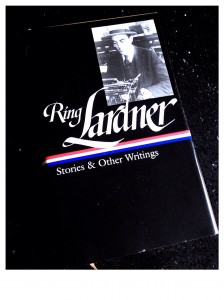 We are really excited that the Library of America is bringing out on August 29 the collected works of one Mrs. Parker's friends and contemporaries, Ring Lardner. The publisher provided an advance copy and it's a beautiful collection and a must-have for anyone that enjoys humor. Ring Lardner Stories & Other Writings has all of his greatest pieces.
Among the best-loved are The Young Immigrunts, The Big Town (a classic New York book), "Haircut," and dozens of stories, plays, letters, and song lyrics. Have you ever read the words to this long-lost gem of a song?
Prohibition Blues
By Ring Lardner
"What ails you brown man, what makes you frown man"
I ask'd my man so mis'rable
"You look so winnin' when you is grinnin'
With all them gold teeth visible
But now you's always threatnin'
To bust right out and cry
Does yo' dogs fret you?
What has upset you"
Then he made his reply
"I've had news that's bad news about my best pal
His name is Old Man Alcohol but I call him Al
The doctors say he's dyin' as sure as sure can be
And it that's so then oh oh oh
The difference to me
There won't be no sunshine no stars no moon
No laughter no music 'cept this one sad tune
Goodbye forever to my old friend "Booze;
Doggone I've got the Prohibition Blues"
If you are interested in the book, visit the publisher website here or get it on Amazon. It's a fantastic book; if you love the Roaring Twenties you'll definitely want to get it. The editor is Ian Frazier, a man who knows a lot about humor.