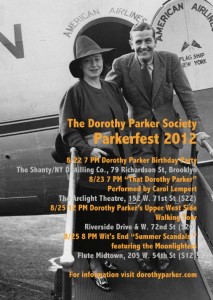 The Dorothy Parker Society is pleased to announce the schedule for its 14th annual Parkerfest, to be held August 22-25 in New York City, to celebrate the birthday of the beloved poet, author and critic. The two-borough affair will include a walking tour of Mrs. Parker's neighborhood, a party and tour in the Brooklyn distillery that produces a gin named in her honor, a one-woman show based on the author's best material, and a vintage-theme jazz party in a former speakeasy. All events are open to the public.
"Celebrating Dorothy Parker is what the organization is all about," said Kevin Fitzpatrick, president of the society. "We are thrilled to be taking Parkerfest to new venues and locations this year, starting in Brooklyn."
Parkerfest 2012 Schedule of Events
Wednesday, August 22, 7:00 PM Dorothy Parker Birthday Party
The Shanty/NY Distilling Co. 79 Richardson St, Brooklyn
In late 2011 the New York Distilling Company rolled out its debut product: Dorothy Parker American Gin. The gin has been a smash success locally and is now featured in top bars and restaurants in the area. August 22 is Dorothy Parker's actual birthdate, and the Society is sponsoring a party in The Shanty, the cozy cocktail bar adjacent to the distillery. A tour and demonstration of the distilling process will be held for earlybirds. Poetry from Mrs. Parker's greatest hits will be read, along with others by local poets. There is no cover to attend, but all guests must be over 21.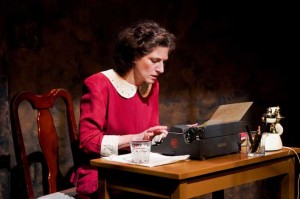 Thursday, August 23, 7:00 PM "That Dorothy Parker," performed by Carol Lempert
The Arclight Theatre, 152 West 71st Street ($22)
"That Dorothy Parker" is a one woman biographical drama about the life and work of Mrs. Parker. A memory play, "That Dorothy Parker" weaves together anecdotes of the 10 years she spent at the Algonquin Round Table, her relationship with Hemingway and scores of other men, her involvement in the Spanish civil war and selections of her writing. "That Dorothy Parker" premiered at the Soho Playhouse in 2008 as part of FringeNYC. It sold out and was selected as the 'best of the fest.' Since it's debut it has played to sold out houses across the U.S., Canada and Mexico. Tickets are $22 and may be purchased at the door and advance online via papertickets. Following the play will be a cocktail reception and audience talk-back. More show information here.
Saturday, August 25, 12:00 PM Dorothy Parker's Upper West Side Walking Tour
Riverside Drive & West 72nd Street ($20)
Dorothy Parker's Upper West Side Walking Tour is a great way to see where Mrs. Parker and lived as well as experience one of New York's greatest residential areas. Meet at Riverside Park, West 72nd Street and Riverside Drive (at Eleanor Roosevelt) at Noon. The walk is led by Kevin C. Fitzpatrick, author of A Journey into Dorothy Parker's New York and president of the Dorothy Parker Society. See more than a dozen locations tied to Mrs. Parker's life: her residences from childhood to adulthood, her haunts, school and landmarks. Take a stroll through the beautiful Upper West Side and see where Dorothy Parker spent her formative years. The walk is two hours in length, and covers approximately 25 blocks. Wear comfortable shoes. The walk is open to the public, tickets are $20 each (cash, cheque, credit/debit cards at walk). No charge for kids or dogs. Walk is held rain or shine.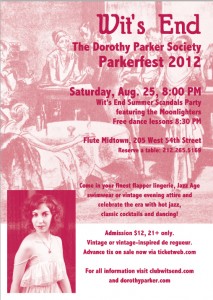 Saturday, August 25, 8:00 PM Wit's End Summer Scandals Party featuring the Moonlighters
Flute Midtown, 205 West 54th Street ($12)
We are wrapping up Parkerfest at the place where Parkerfest made its debut in 1999: Flute Midtown, New York's best former speakeasy. No other venue can match Flute Midtown for the ambiance and atmosphere of 1922. Wit's End holds its monthly party with the Dorothy Parker Society here, and this month is extra special. Live traditional American music of the early part of the 20th century from the Moonlighters (if you love ukuleles, don't miss them) playing tunes from the bootlegging era. The theme is vintage lingerie and flapper summer outfits, swimsuits, and summer eveningwear. Doors open at 8 and a free dance lesson begins at 8:30. $12 at the door. Table reservations are available and encouraged; telephone Flute Midtown reservation line at 212.265.5169 to reserve a table. Advance tickets are available via TicketWeb. Must be over 21 to attend. Vintage or vintage-inspired clothing is de rigueur, no exceptions.
And that will be Parkerfest 2012. We hope you can make it. Any questions? Just contact us.