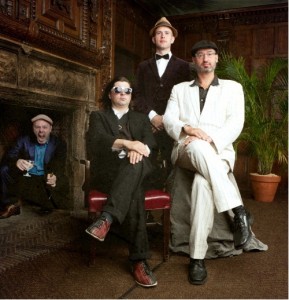 I like New York in June, how about you?
I like a Gershwin tune, how about you?
I love a fireside when a storm is due.
I like potato chips, moonlight and motor trips,
how about you?

June is here and we have a fantastic monthly party to tell you about Wit's End and the Dorothy Parker Society invite you to celebrate the social life of the Jazz Age with Tin Pan!
Saturday, June 30, 7:30pm-Midnight
Always the last Saturday of the month! (Except July)
Flute Midtown
205 West 54th Street (near Broadway)
Come in your finest 1920s & 1930s vintage or vintage inspired evening attire and celebrate in style with live hot jazz, vintage cocktails and good times! Free dance lesson at 8:30 with instructors Jeri Lynn Astra and Neal Groothuis.
Live jazz from Tin Pan!
Tin Pan connotes a world from the past – the most dominant and enlightened strains of American music of the early part of the 20th century – jazz, blues and American popular song. But it would be a mistake to say that Tin Pan is fixed in that past. Rather, it is music created to be enjoyed profoundly and joyously in the present. The band has created a rabid following by playing music that resonates powerfully because its intention is pure – to make people dance, smile and conjure with the spirit of music itself.
Dress code: Coat and tie for gents, cocktail/evening attire for ladies. 1920s, 30s and 40s vintage is encouraged!
$12 at the door. Tickets can be purchased in advance via TicketWeb.com. Table reservations are available and encouraged; telephone Flute Midtown reservation line at 212.265.5169 to reserve a table. Follow on Twitter @clubwitsend. For more information, visit ClubWitsEnd.com.