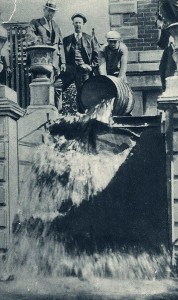 The first 2012 Algonquin Round Table Walking Tour
 will take place just after the hotel completes a multi-million dollar renovation and refurbishment.
Saturday, May 26, Noon-2 p.m.

Location: Algonquin Hotel, 59 W. 44th St (bet 5th and 6th Avenues).
 Cost: $20 per person.

Walk in the footsteps of the Vicious Circle in the only walking tour dedicated to the city's greatest literary friends. See the places where the Round Table, lived, worked, played and drank. You'll visit the former homes, theaters and speakeasies associated with Dorothy Parker, Robert Benchley, Franklin P. Adams, Heywood Broun, Edna Ferber, George S. Kaufman and many more.
The walk begins and ends in the landmark Algonquin Hotel.
The walk is led by Kevin C. Fitzpatrick, president of the DPS and author of A Journey into Dorothy Parker's New York and co-editor, with Nat Benchley, of The Lost Algonquin Round Table. Kevin is a licensed New York City sightseeing guide.
All ages are welcome. Dogs must wait outside the hotel but are allowed on the rest of the walk. Wear comfortable shoes because the walk covers about 25 blocks. Buy tickets in advance via TicketWeb or pay with cash or credit cards at the walk. Questions? Call 917.526.0597. Information about other walking tours led by Kevin is here.