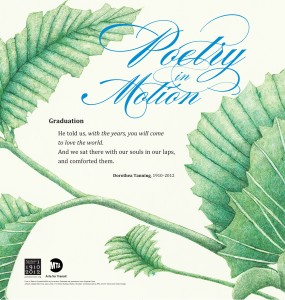 April has been designated National Poetry Month in the United States by the Academy of American Poets and the Dorothy Parker Society is going to participate. We are hosting a unique event on April 30 in Brooklyn that is right in line with what has been the mission of the DPS since it was founded in 1999:

To promote the work of Dorothy Parker;


To introduce new readers to the work of Dorothy Parker;


To expand the fan base of Dorothy Parker;


To have as much fun as possible.
The DPS is launching a campaign this month to get Dorothy Parker into the New York City subway system. Sounds mad? Read on.
Recently, the Metropolitan Transit Authority announced it is reviving the "Poetry in Motion" program that it conducts with the Poetry Society of America. The PSA suggests to the MTA poems that are placed on posters and on the backs of special MetroCards. The Dorothy Parker Society is going to choose one Parker poem to suggest to the PSA and lobby to include in the program. This will help the mission of the DPS by getting into hundreds of subway cars and printed on the reverse of up to three million MetroCards.
On April 30, starting at 6 p.m., the DPS is going to hold an event at the New York Distilling Company in Greenpoint, Brooklyn. This is the company that manufactures Dorothy Parker American Gin that we told you about in December. We will have a tour of the operation and see how gin is distilled, followed by a gin tasting. After the tasting we will get down to business: nominating candidates for the poem that we want to see in the subway. Participants should bring their Parker books and be ready to read their choices. By the end of the night we'll narrow down the finalists to 10 poems, and then all DPS members can vote online from this 10 from April 30-May 30. After the voting period, we'll have our winning poem to send to the Poetry Society of America and our reason why we want to see Dorothy Parker in the program.
If you can't make it to Brooklyn, you can email your choice here or Tweet it via Twitter with the hashtag #subwaymrsparker and it will be included in the voting on April 30.
The details:
Monday, April 30, 6 p.m.
New York Distilling Co.
The Shanty
79 Richardson Street
(between Leonard & Lorimer) near the Lorimer/Metropolitan subway stop on the L/G subway lines.