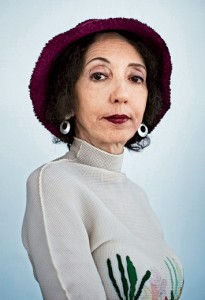 On February 10, New Jersey Gov. Chris Christie announced the 11 new members of the state hall of fame and once again Dorothy Parker was passed over. The class of 2012 nominees had Parker running in the "general" category among nine others. Author Joyce Carol Oates, winner of the National Book Award and two O. Henry prizes, was elected in the category.
The general category, according to the hall of fame, is the "catchall category for educators, military leaders, writers, poets, scholars, artists and others." Of the 10 names, every nominee is dead except for Oates and Tom Kean, the former governor. Oates edged out other "general" state heroes sculptor Alexander Calder, photography pioneer Alfred Stieglitz, cartoonist Charles Addams, heiress Doris Duke, scholar Dorothy Porter Wesley, economist Milton Friedman and cartoonist Thomas Nast. So Parker was in good company.
Oates, a popular writer who has taught at Princeton since 1978, is also being admitted to the New York State Writers Hall of Fame in June, an honor that Parker earned last year. Oates was born in western New York. The complete list of nominees is here.
Parker, born in Long Branch, is the only New Jersey-born female author to be honored with a U.S. postage stamp, and Parker is the only New Jersey-born author who's birthplace is a National Literary Landmark. She also won the O. Henry Award, was a two-time Academy Award nominee, the National Institute of Arts and Letters awarded Parker the Marjorie Peabody Waite Award for her contribution to American Literature and in 1959 she was elected to the National Institute of Arts and Letters.
Of the New Jersey Hall of Fame Class of 2012, it looks like of the 11, only five are still breathing and can attend the induction ceremony (not counting the E Street Band, which is down one member already).
The group that Parker isn't joining this year:
Arts & Entertainment
• Actor Michael Douglas
• The E Street Band (Bruce Springsteen already made it in, naturally)
• Actor Christopher Reeve (1952-2004)
• Vocalist Sarah Vaughn (1924-1990)
Enterprise
• Chemist John Dorrance (1873-1930, never heard of him? He invented condensed soup for Campbell's)
• Publisher S.I. Newhouse (1895-1979, kind of a Parker connection, he bought The New Yorker and owned Vogue and Vanity Fair)
Sports
• Coach Bob Hurley (high school basketball coach)
• Olympic track star Milt Campbell (won a gold medal in the decathlon in 1956)
• Millionaire Wellington T. Mara (1916-2005), owned the NFL's New York Giants
History
• Sharpshooter & Western star Annie Oakley (1860-1926)
General
• Author Joyce Carol Oates
They are to be inducted in a gala in Newark in June. This class joins previous Garden State connections such as F. Scott Fitzgerald, Jon Bon Jovi, Bruce Springsteen and Bruce Willis.
Parker can be nominated again. Another notable woman born in New Jersey who isn't in the hall is Whitney Houston.