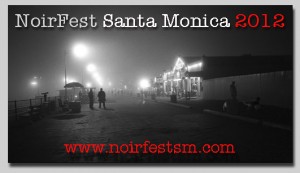 We got a message from DPS member Helen K. Garber in Los Angeles about NoirFest Santa Monica 2012. She is a photographer. It sounds just like what you'd expect from a Noir event, and would be good for Los Angeles area fans. The reception takes place during Photo LA weekend, when the international photographic community gathers in Santa Monica. Helen says:
I have the great joy of inviting you to join me for my latest solo exhibition in Los Angeles: Jan. 14 – Feb. 25, 2012 @ dnjGallery, Bergamot Station, Santa Monica, CA. I have spent the last two years creating Encaustic Noir, the series of mixed media assemblages that will be exhibited in the main gallery. dnj owner/director Pamela Schoenberg curated an amazing companion show of vintage night photography by the master artists who have inspired my work.

You will be able to see original vintage images by Brassai, Henri Cartier-Bresson, Andre Kertesz, Robert Doisneau and other renowned photographers in the second gallery. Pamela chose only photographers working in Paris in the 1930's. If you don't know photographic history, please consider that they were among the real life characters represented in Woody Allen's Midnight in Paris.
More information here.