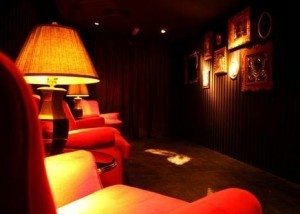 I just finished writing about a Dorothy Parker play in the Netherlands, when I was alerted to more international Parker news. This time it's on the other side of the globe, in Brazil. It seems that the hottest new nightclub/disco is called Dorothy Parker, and caters to the upscale crowd in Sao Paulo. An English-language guide says the club can host 250, but it's exclusive:
In an attempt to avoid publicity, Dorothy Parker does not release any press, nor does it have a website. Named after the eponymous American writer, the nightclub welcomes Sao Paulo's high society. The soundtrack has a little electronic music and plays a mix of soul, funk, rock and Brazilian music.
This is too much! A club named Dorothy Parker! We are booking flights now! But what are the locals saying? Those who have been there? We ran this through Google Translate, and we learned:
Service sucks, sound quality very low level, the cramped environment and above all both the manager as the owners need to make progress "relationship with customers. In addition to the valet service offered by the house is a shame … Park your car in the street, stop stealing his car and on top of deceiving consumers who say they have insurance and do not have any responsibility about that. If you still insist on going in this place, parked on the street!
Uh, oh, that's not good… what are others saying about Dorothy Parker?
Dorothy Parker does not respect anyone. We are trying for a one year agreement and effective adjustments in the structure of the ballad for all the neighbors can sleep in peace while some play and NOTHING. They pretend that tidy, that move and NOTHING. ONE YEAR WITHOUT QUALITY OF SLEEP. AN ABSURD THAT. We demand respect.
I could translate more, but you get the point. Apparently the club has been open since at least February 2010, but since it wants to fly under the radar, not much has been written about it. If anyone goes to Brazil, please send us a report from Dorothy Parker. We'd love to learn more.
Update: we located a video shot inside Dorothy Parker, during a fashion show. At the 1:17 mark, it appears that the owners made a neon sign of Parker's signature? See for yourself: