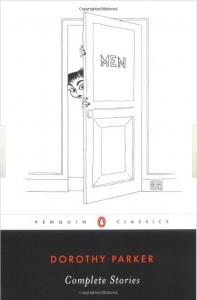 David Leopold, archivist of the Al Hirschfeld Foundation, says that if the great illustrator didn't draw your caricature in the 20th Century, you pretty much didn't matter. Dorothy Parker had her likeness dipped in Hirschfeld ink several times, illustrations that appear today on the covers to Complete Stories and Not Much Fun: The Lost Poems of Dorothy Parker.
Hirschfeld, who died at 99 in 2003, is back in the news this week. Corey Kilgannon of the New York Times was the witness as the great illustrator's studio at 122 East 95th Street was packed up, including the barber shop chair he sat in at his drawing board. Beginning tomorrow, the New York Public Library will display the chair and other Hirschfeld items at the Lincoln Center branch, home to its deep performing arts collection.
Hirschfeld first drew Parker in the early 1930s, but probably his most famous caricatures of her were done for Margaret Case Harriman's 1950 book, The Vicious Circle.
The studio remained untouched in the eight years since his death. His widow is selling the house, and it all has to go. As The Times reports:
Facing the drawing table was a long couch where friends would sit and visit while he drew. There were several bookcases jammed with volumes on topics as diverse as art and motor parts. Taped to the walls were numerous unfinished sketches, including the pianists Arthur Rubinstein and Vladimir Horowitz. A large bulletin board was covered with yellowed articles, letters and photographs dating back decades. All that was missing was Mr. Hirschfeld in his drawing uniform: bedroom slippers and blue mechanic's jumpsuit.

The movers came in. After much wrapping and taping and strategizing, they lifted the barber chair, leaving a rusty ring of a reminder on the worn black tile floor.
We will try and get over to the library to visit the Hirschfeld chair soon.
If you reside in New Orleans, there is a good event to catch. In commemoration of the centennial of Tennessee William's birth on March 26, 2011, The Historic New Orleans Collection (THNOC) and the Al Hirschfeld Foundation will present the exhibition "Drawn to Life: Al Hirschfeld and the Theater of Tennessee Williams" at THNOC's Williams Research Center, 410 Chartres St. Opening on January 11, 2011, the exhibition is free and open to the public through April 3, Tuesday–Saturday, 9:30 a.m.–4:30 p.m.
Here's a video of Hirschfeld in his studio, drawing Paul Newman: