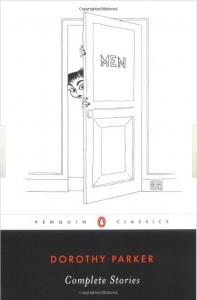 Penguin Classics is re-launching its entire backlist in January 2003 and "Dorothy Parker Complete Stories" is among the first 21 books getting a new look.
"Complete Stories" – first released in 1995 – will come out with a new cover. The art is the famous Al Hirschfeld cartoon of Mrs. Parker peeking from behind a door marked "MEN."
Mrs. Parker joins Hawthorne, Twain, Dante and Flaubert among the best-selling dead authors on Penguin's list for January.
According to penguinclassics.com, the "new look" of the line will have new art on all covers as well as "a more readable type design." All 1,200 Penguin Classic titles in print will be repackaged. The company is also rolling three other lines into Penguin Classic, including the Portable series. In 2004, The Portable Dorothy Parker will turn 60 years old, so maybe this will come out in gold?
To see the new edition of "Complete Stories" click here.