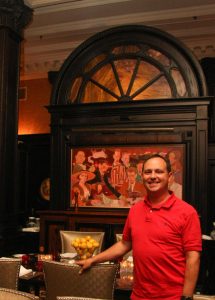 Kevin C. Fitzpatrick
The walks are led by Kevin C. Fitzpatrick, author of:
A Journey into Dorothy Parker's New York
The Algonquin Round Table New York: A Historical Guide
Under the Table: A Dorothy Parker Cocktail Guide
Editor of Dorothy Parker Complete Broadway, 1918-1923
Co-editor of The Lost Algonquin Round Table
The Governors Island Explorer's Guide
Kevin is a licensed New York City Sightseeing Guide and a member of the Guides Association of New York City and The Lambs.
In 1998 Kevin and his friends founded the Dorothy Parker Society, which has been featured in the New York Times, USA Today, National Geographic Traveler and The (London) Observer. He is the president of the society and hosts monthly speakeasy parties in Manhattan, which draws Dorothy Parker fans from around the world. Today the Dorothy Parker Society is the biggest literary group in New York. He has produced dorothyparker.com since 1999. In 2005 Roaring Forties Press published his first book A Journey into Dorothy Parker's New York as part of the ArtPlace series. In 2009 Donald Books published The Lost Algonquin Round Table, which he co-edited with Nat Benchley. He has since had published four more books that are all tied to New York City history.
In conjunction with the Algonquin Hotel, Kevin leads walking tours of the former Round Table homes and haunts in Manhattan. A licensed New York City sightseeing guide, Kevin also leads walking tours of Dorothy Parker's Upper West Side, Governors Island, and Cypress Hills National Cemetery.
For more information, visit his author site.
Questions? Send a message here.