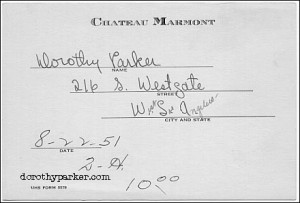 The year was 1947, and postwar Hollywood was where Dorothy Parker was hiding out with her boyfriend, Ross Evans, before she had split with her second husband, Alan Campbell. Dottie was 54 and Evans (23 years younger) was 31. She had not been working in more than two years. She checked into the legendary Chateau Marmont on the fabulous Sunset Strip. This was par for the course with Dottie, she often would seek out the most luxurious hotel she could find (if not exactly afford) and ensconce herself in it.
Evans was a wannabe playwright and novelist. He was good-looking and hardly her intellectual or professional equal. So they shacked up in what is probably the most notorious celebrity hotel in all of Los Angeles. They were to collaborate on The Coast of Illyria, a play about Charles Lamb and his insane sister Mary that would get a short run in Dallas in 1949 but never actually made it to Broadway.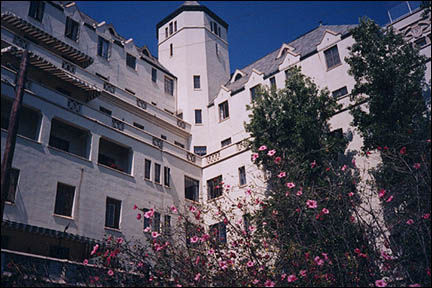 At the same time she was in Los Angeles, Parker also took on some more scriptwriting work. Separated from Alan, she was going it alone on the movie work for the first time. This period was the end of Hollywood's Golden Age, studio system, and great pantheon of screen stars. Television was too new to matter. Staying at the Chateau Marmont was when she was trying to be independent, but not making a 100 percent success of it. Dottie was giving her time to many leftist causes, work that would ruin her career in Hollywood during the Red Scare.
The Chateau Marmont is a perfect place for Dorothy Parker. It would be the equivalent to the Plaza Hotel for her, where she also took up residence. Modeled on a Loire Valley chateau, the West Hollywood landmark opened in 1929 and it attracted actors such as Errol Flynn and Greta Garbo. Among today's regulars are Christopher Walken and Winona Ryder.
Across the street (where shopping now stands, that wasn't there in 1947) is the former Schwab's drugstore where film stars and columnists gathered. Across Crescent Heights was the legendary Garden of Allah apartment complex where Dottie once lived, as did Robert Benchley and Scott Fitzgerald.
Parker would have spent a lot of time in this neighborhood for 30 years. During the first half of the 20th Century this 2-mile stretch of Sunset Boulevard was the center of the film industry. All the major studios, such as Paramount (who had her under contract), 20th Century Fox, RKO, Warner Bros., and United Artists were located in the vicinity. Sunset was a dirt road when Dottie got to town.
Some other tidbits about the Chateau Marmont:
* Rooms go for $195 to $1,400 a day.
* Jim Morrison of The Doors lived here in the late 1960s. The hotel was pretty shabby in the 1960s and 1970s, until it was rehabbed and its glamour brought back.
*Los Angeles singer-poet Henry Rollins (about the polar opposite of Mrs. Parker) wrote: "If Darwin were alive today, he'd treat this town like the Galapagos Islands and study us all from a bungalow at the Chateau Marmont."
*There are private bungalows nearby for added privacy. Don't stay in Bungalow 3, that is where actor-comedian John Belushi overdosed in 1982.