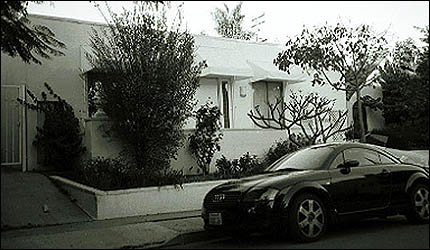 This is Dorothy Parker's last home in California, a tiny little house in West Hollywood where her second husband died.
Dottie lived off and on from 1934 to 1964 in Los Angeles. She was led West like so many other writers by the allure of big money as a screenwriter in the old studio system. But by joining her friends Robert Benchley, Sherwood Anderson and Scott Fitzgerald in Hollywood, she effectively ended her career as a poet and short story writer. With Alan Campbell, her screenwriter/husband/lackey, Dorothy Parker spent three decades shuttling from California to New York and Pennsylvania.
This house was No. 8983 Norma Place. The couple took up residence in the 1950s.
Los Angeles resident Olen Earnest says in e-mail to dorothyparker.com, "I lived in an apartment across the street from Dorothy Parker's house in West Hollywood. She was selling the house and returning to live out her years in New York. Everything was being sold. My landlord wanted to purchase her refrigerator and place it in my apartment. When he opened it to examine it there was nothing in it except a very old, dried up apple. "Dorothy," he said, "there's nothing in this refrigerator but an old apple," to which Parker replied, "Oh, that, I've had it since I was a small child and can't bear to part with it."
"The apartment was one of three carved out of the former offices of a silent movie studio owned by the Talmadge sisters," he said. The street is named after Norma Talmadge, a silent film star. "My landlord, who bought the fridge from Parker, was once a bit player at MGM and the front porch of my apartment was the front porch from the Aunt Pittypat house on the Gone With the Wind set. The three pieces of property adjacent to my former apartment, No. 8954, used to be owned by Nina Foch."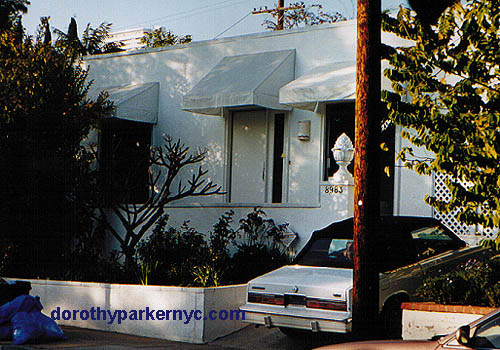 On June 14, 1963, Alan Campbell died of an apparent suicide at age 59. The couple had an acrimonious relationship at this point, and Campbell was living in the Norma Place house in a little area behind a wall of bookcases. Mrs. Campbell was barely making a living by writing a book review column for Esquire. In 1963-64 she was a Distinguished Visiting Professor of English at California State College at Los Angeles, a role she found unappealing and the students uninteresting.
On the day of his death, Alan had been drinking Bloody Marys all day. Dottie came home from a salon and found her husband dead. Around his bed were capsules of Seconal and a plastic bag was draped over his neck and shoulders. The coroner's report stated he'd died of "acute barbiturate poisoning due to an ingestion of overdose" and listed his death as a probable suicide. But Dottie and her friends didn't believe Alan had intentionally killed himself; she reported it as an accident.
According to Lillian Hellman, the death allowed Mrs. Parker some gallows humor. Hellman says a nosey neighbor came over and asked the grieving widow if she needed anything.
"Get me a new husband," Dorothy told the woman with little emotion.
Shocked, the neighbor was aghast, and angry. She berated Dottie.
"I'm sorry," Dottie told her neighbor. "Then run down to the corner and get me a ham and cheese on rye. And tell them to hold the mayo."
At age 69, the last chapter in her life was being written upon his death. Within months, she decided to abandon California for good and return to her beloved New York. Almost exactly four year later, Dorothy Parker would die of a heart attack on June 7, 1967.
Native Angelino Mark Lopez, who took two of these photos says, "My friend who works up in Hollywood went to this cafe where she learned Dorothy used to frequent… All I remember my friend saying of the place is that the sandwiches were expensive and not very good."
Getting There: Get in a car. Norma Place runs parallel to Santa Monica Boulevard. Norma Place is just off Hilldale, which is just west of intersection of San Vicente and Santa Monica Boulevard. It is a couple of blocks north of the Von's Pavilion market on Santa Monica and only runs for four blocks or so.