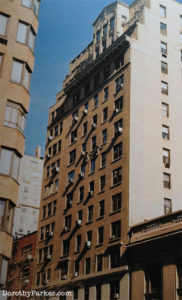 The saddest location in New York for Dorothy Parker fans is The Volney, the Upper East Side apartment house where Dorothy Parker passed away on June 7, 1967. For the last 15 years of her life, this is where Dorothy lived and worked, entertained friends and doted on her dogs.
Located at 23 East 74th Street between Fifth and Madison avenues, the block is a sedate residential street. Her last apartment is a 20-minute walk across the park from her first girlhood home. It is in the Upper East Side Historic District, composed largely of the mansions, town houses, apartments and private carriage houses erected for New York's wealthiest citizens in the early 20th Century. The district contains major town houses in the Beaux-Arts style, so it is worth a sightseeing walk around the neighborhood.
In September 1952, Dorothy left California after more than 25 years of screenwriting. Her name was being dragged through the mud during the Red scare anti-Communist hearings. Her movie career was ruined and the FBI targeted Parker. Approaching 60 years of age, she was once again separated from her husband, Alan Campbell. She was happy to move back in her favorite city. "I get up every morning and want to kiss the pavement," she reported.
In the Volney, Dorothy was living with a large number of older women — and more than three dozen dogs in the building — which would be fodder for her unsuccessful 1953 play, The Ladies of the Corridor. Looking at the Volney and the other towering apartment houses in the vicinity, it is easy to picture Dottie's characters. At the time, her working life consisted of book reviews for Esquire and some short fiction for The New Yorker.
In the Volney, Dorothy had a two-room apartment in the 12-story building, which at the time was a steep $275 a month (about $1,970 today). In 2016 rent for a 850-square foot one-bedroom was $5,000; a studio apartment sold for $355,000.
Dorothy reconciled with Alan in 1961, and moved back to Hollywood to join him and work for Twentieth Century-Fox. She also tried teaching at a community college. However, her husband was a notorious alcoholic, and he died in June 1963 of an overdose. A few months later, she moved back to the eighth floor of the Volney with one of her beloved dogs, Troy. Until her death, Dorothy was frequently in and out of the hospital due to frequent falls and cardiovascular problems. Her friends from the Algonquin Round Table were almost all dead and she had few friends left. While living at the Volney, a few old acquaintances would drop by, as did newspaper and magazine reporters writing stories about how she was still alive. She tried having a social life, but it was nothing like her younger years when she was the toast of the town.
When Dorothy died of a coronary in her apartment at age 73, it was front-page news in the New York Times. The paper devoted considerable space to her obituary. And although she predicted her death would occur amid dreary weather, biographers say it was a nice summer day. Her memorial was at the Frank Campbell Funeral Home.
Dorothy lived just one block east of Central Park. There is a slight buzz of traffic from Madison Avenue, which is about 400 feet from her former doorstep. Right on the edge of Central Park is the pond where model sailboats patrol the shallow waters.
There isn't a marker and there isn't a sign at the Volney that this is where one of the greatest American writers lived. However, less than two blocks away and on the same street is the former residence of Eleanor Roosevelt. She and Dorothy resided in the same neighborhood at the same time in the 1950s and 1960s.